From Makran Coast to Europe: Crossing borders through folk music
When I met Ustad Noor Bakhsh with his bandmate Doshambay and manager Daniyal Ahmed in Berlin this June, the three were in deep thought admiring a sculpture on the ground. This was a day before kicking off Ustad's European tour in Prague. In true European fashion, we sat at a table in Berlin outside a cafe to talk about their journey from Pakistan to Europe.
The benju is a one-metre-long instrument, with both strings and keys, and is a vital component in Balochi music composition. It has been described as a customised version of a Japanese toy instrument called the Taishōgoto and is also likened to the akkordolia of Germany, the Swedish nyckelharpa and the Indian bulbul tarang.
Yet each instrument retains its own unique qualities, sounds and cultural significance. In the 20th century, the Baloch community modified the Taishōgoto into their own version of a folk music instrument.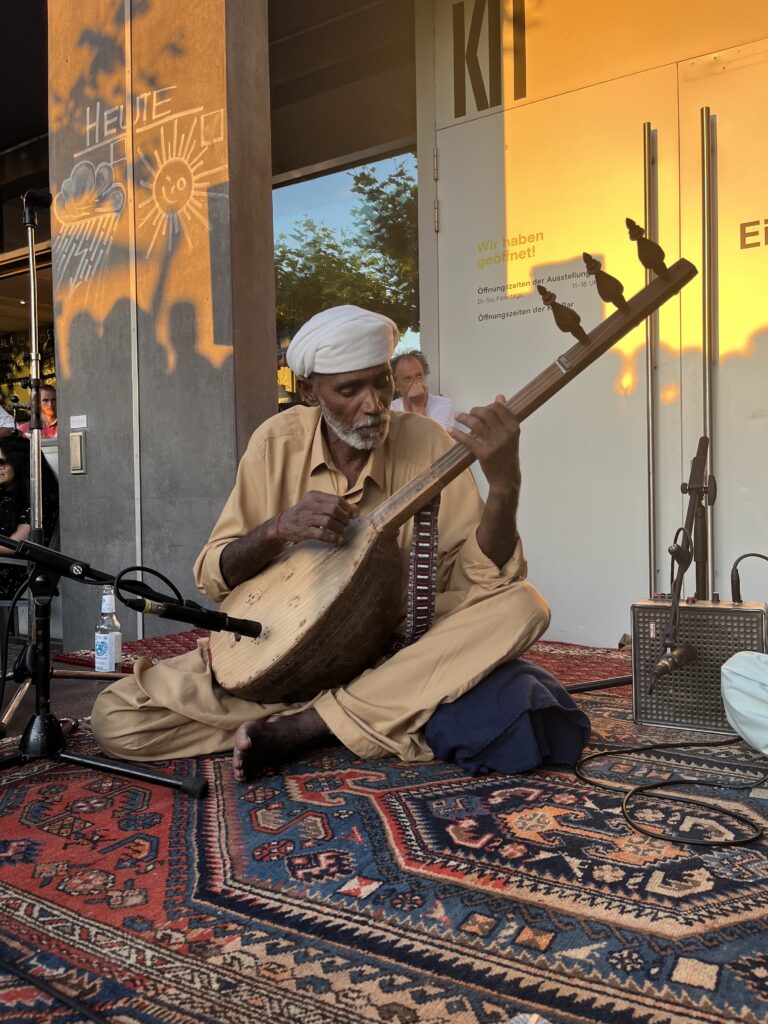 This was the duo's first time performing outside Pakistan, taking them to various parts of Europe to represent Balochistan, including the Roskilde Festival in Denmark — one of the biggest music festivals in Europe.
"I went a little distance to look for him, and now he and his music are taking us halfway across the world together," said Daniyal in an Instagram post introducing the tour.
The tour was planned and managed by Christoph Linder from the booking agency Planet Rock. During our interview, Daniyal shared how shocked he was by the number of shows they got, considering that apart from a handful of Qawwals, most traditional Pakistani musicians are not typically in high demand within the European music scene.
In 2018, Daniyal came across a video of Ustad Noor in which he was playing the tune of a Jingul (sparrow), a bird that often frequents Ustad's house — Jingul also happens to be the name of Ustad Noor's debut album released in 2022. The viral video wrongly stated that Ustad is a fisherman from the Makran coast, but the truth is that he dedicated his entire life to playing the benju.
Daniyal had left no stone unturned in his search for Ustad Noor Baksh and by 2022, it became an investigative search to locate Ustad Noor's residence within Pasni. "For four years, Ustad was on my mind," said Daniyal. And in between, as the world turned topsy-turvy due to Covid-19, for Daniyal it became a passion of preserving Ustad's unique musical prowess as the world slowly faced demise.
"When Daniyal and his friend set out to find me, even the kids in our locality were familiar with my name, but they couldn't figure out where I was residing," said Ustad.
When asked how he feels about Karachi, Ustad said: "Karachi just feels like a place that Daniyal had to bring us to. We are people of the jungle, cities do not bring us joy."
In September 2022, in collaboration with Daniyal and veteran music producer Nizar Lalani, Ustad's first album 'Jingul' was released.
"The album was recorded live on location, over a memorable sunset on the Shadi Kaur creek, close to Noor's village, near Pasni, Balochistan," specifies the album page on Bandcamp. Eight months on, the trio arrived in Germany — where I met them — to kick off their tour around Europe's big cities and small towns.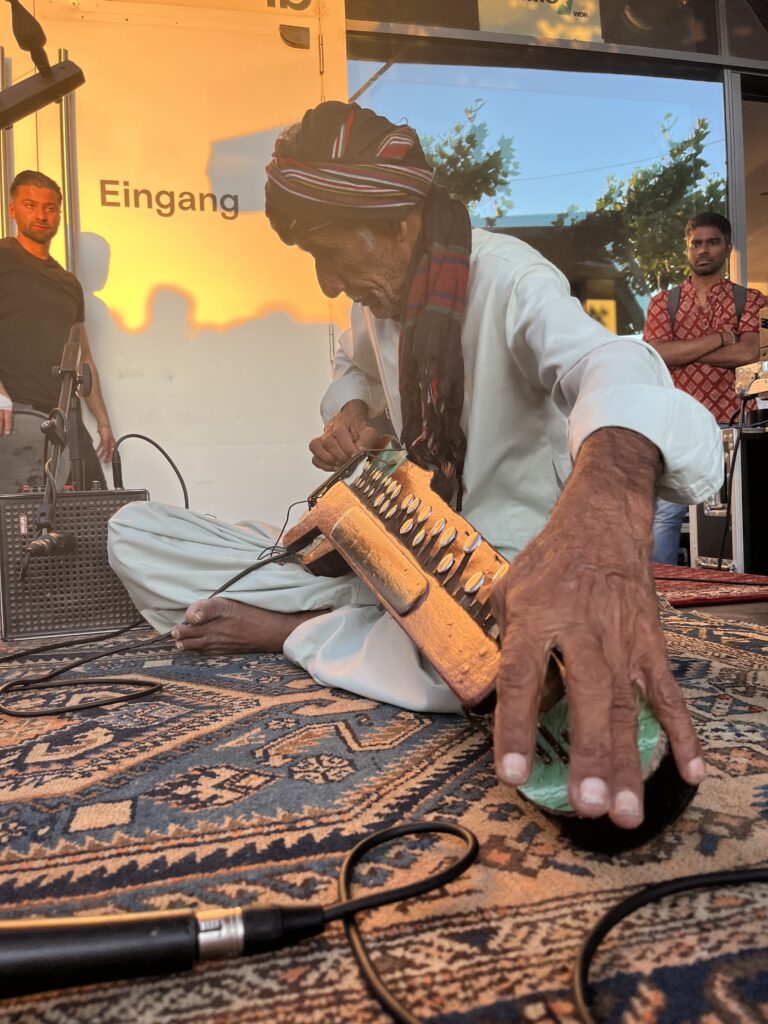 From Jinnah International to Berlin Brandenburg
But considering the political turmoil in Pakistan and the painful divorce of the people from their leader, entering European soil from a country that is considered a restive and economic risk in international mainstream media was no smooth sailing. The paperwork for their visas was a perpetual run between Karachi, Quetta and Pasni.
Documents that both the musicians didn't have needed to be issued, including new marriage certificates due to the fact that when Ustad and Doshambay had gotten married to their partners, they were minors. Pakistan's bureaucratic nightmare had them waiting for hours at Nadra's office one day, with both Ustad and Doshambay's wives and kids, trying to get their new family registration certificates issued in time for an appointment at the German Embassy in Karachi.
Daniyal stayed up every night until 3am to refresh the visa applications website, because that is when the German Embassy makes new appointments available. It was only with the help of one of the German festival organisers that an appointment was finally secured.
For Daniyal, being in limbo about whether the visas would be issued or not so close to the tour dates was a source of agitation.
"But when the visa officer saw that we have invitations from 25 venues, he was shocked. He started asking us how we know each other and what their [Ustad and Doshambay's] story is," Daniyal laughed.
But the most worrying experience proved to be at Karachi airport itself when the trio arrived to check in and board their flight to Germany.
On June 24, Ustad Noor and Doshambay arrived in Düsseldorf to play an open-air show next to the River Rhine. The show continued for over an hour and the music evoked all sorts of emotions and camaraderie among the audience, the majority of which was the Pakistani community in Düsseldorf.
I couldn't help but wonder why we rarely see each other in our daily lives in the city. The grind of life divides us but music unknowingly brought us close.
At one point, it didn't matter anymore how familiar you were with the Benju or the raags. The only thing that mattered was the here and now and the transcendental power of Ustad and Doshambay's performance.
Next to the river, we danced and grooved until the sun came down. Some of us danced in our favourite clothes representing the motherland, some in outfits with glistening mirror-work and embroidery that felt like home.
The best moment was when, upon request, Daniyal made an announcement on the microphone asking the men to move back and make space so that the women could make their dancing circle. I asked some aunties to join me, it was too public for them but they said you go, our girls will dance. Pakistani, Arab and German women dancing together. Nothing brings the local community closer together better than music.
Of his musical relationship with Doshambay, the Ustad had to say, "When we play together, it reminds me of my youth".