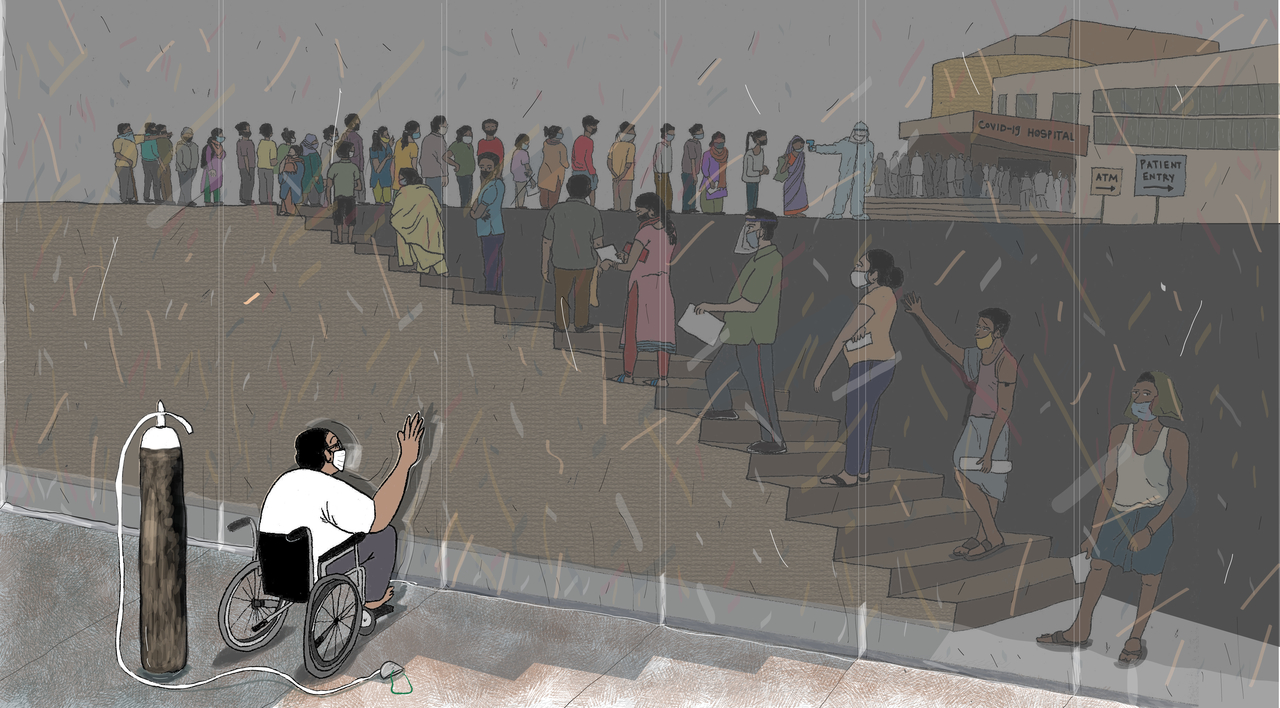 Gasping to live again: A disabled person's account of barely surviving Covid
To choose a life you want to live is a privilege for the disabled in India.
Oxygen Level: SpO2 99

When you live on the margins, you perennially face the threat of deletion. You never know who is redrawing the map: the government, the society or a global pandemic. The last two years have been a heady concoction of panic and anxiety for disabled and chronically ill people like me. The constant reminders that the threats were immediate and fatal only made it worse. 
To choose a life you want to live is a privilege for the disabled in India. Even if you are privileged in other ways, sometimes you have nothing to choose from. You live on the first-floor apartment because you are tired of getting rejected by landlords and take whatever housing you can get. "Why do you have to tell the landlords about your condition? Just don't mention it", suggested one property agent. 
You find it difficult to climb stairs but there are no lifts in buildings that suit your budget. You can get all the groceries you want. But you have to ask others for help in getting groceries when the shops don't make deliveries. You have money in your bank but shops don't accept online payment, ATMs are inaccessible, and you are running out of cash. You live in constant fear of medical expenses and might be able to pay for health insurance. But insurance companies don't even sell you insurance in India. 
The marginality of persons with disability is sometimes forgotten because numerically we seldom make a mark on social and political stages. According to the 2011 Census, there are 2.27% of us in this country, a number plagued by stigma and undercounting. I am one of them, one in only 3.38% of the disabled who lived on their own. I often ask myself: Is my only identity that of a beneficiary?
As a disabled and chronically ill person, my first priority is survival. I have been practising it for some time now. Even before Covid, I fell ill for two consecutive years and was bedridden for months.
Oxygen level: SpO2 90
Despite everything, despite not getting out of the house, despite being very careful, a day arrives when you know you are infected. The hospitals are full. You start panicking and calling people you know, hoping that someone would help you to find a hospital bed in case your condition gets worse. There are people dying outside, unable to get oxygen cylinders and beds. 
A day later you find yourself in the hospital, hallucinating. Your mind is slipping out of your control. There is no time to revisit everything that has happened in life but a movie plays inside your head with a narration. How would they tell your story?  Would they remember you as a person with a disability or chronic illness? Would you just add to the numbers? Another one with comorbidities. We told you.
My oxygen is dipping. I have blacked out. When I wake up, the nurse is telling me I should lose weight. Am I going to survive? I must be. No one tells a dying person to lose weight, do they?
I spend most of my days in a prone position, lying on my chest. The doctors think I am doing it intentionally. They don't know that with my scoliotic and kyphotic spinal cord that dictates my body postures this is how I generally chill. In two weeks' time, I get out of the hospital. It will take me a long time to completely recover though. A long, long time.
Oxygen Level: SpO2 92
Independent living is a difficult dream for persons with disabilities in India. Only around 3% of us live on our own. Part of the reason is that many of us need care, and there is no care provided by the government. Most of the care work for disabled people in India is done by their family members. When I get back from the hospital, I am relieved to find my mother with me. She changes my diapers, cleans me up, and helps me wash. 
I shift to my parent's home with her. I need her with me, physically and emotionally. Recovering from illness is a painful process. 
In case of Covid though, every time I made a plan, it kept getting postponed. My body was an event every other month. And it's very hard for chronically ill people to distinguish between old and new ailments. Every time an event occurs, panic strikes. You fear falling back into that hole of uncertainty. The trauma of nearly dying is fresh in your mind. What if that happens again? What will happen to the recent, countless self-affirming social media posts celebrating your survival?
" 'Hope' is the thing with feathers "
Oxygen Level: SpO2 98
One year after Covid, nothing is the same again. I want independence but feel afraid of living alone in the big bad city. I want to travel but my disabled body hasn't fully recovered yet. I start using a crutch instead of a walking stick but the situation has not improved. I spend hours on my computer searching for "wheelchairs in India for heavy people". I am amongst 68% of the population unable to access public transport. I am one of the many grappling with the anxiety of being pushed to the margins. Is my story even important?
The societal power structure turns even a disabled, ill and fat person into an ableist, fat shaming individual at times. 
Strangers walk up to me only to fat shame me. Friends think that my life would be better if I lose weight and do some exercise or if I shifted with my parents for good.
I wake up in pain every day. My body hates me for being demanding. I am forced to hate my body at times because I don't fit into the definition of 'normal'. I feel guilty about letting the external gaze define me at times. But it is part of who I am. It's part of my vulnerability, which is also my strength.
To my surprise, hope grows in my heart despite everything. Desire grows in my body despite all its failings. I dream of a better life. A life where I continue to rebel against ableist hegemony and against the normative societal norms. At the same time, there is always an oximeter beside my bed. A reminder of what I have been through, what many like me have been through. Our stories will continue to live despite all attempts by the able-bodied world to erase us.
About the author:
Abhishek Anicca is a writer, poet and performer. He identifies as a person with locomotor disability and chronic illness which shapes his creative endeavors. He uses spoken word poetry and theatrical performances for disability activism and has given more than fifty performances in festivals and events across India and beyond.