Little Help: The downsides of working for a top cleaning platform in Germany
Registering on Helpling seems to offer an attractive option for immigrants and others struggling to break into the German work force. But when they face low wages and exploitative conditions, workers are on their own.
Like so many other immigrants from all over the world, I arrived in Germany without European citizenship, money, or an employment contract. With the COVID-19 pandemic in full swing, my main priority quickly became finding work, something I could start quickly and would help pay the bills.
Eventually, I started hearing more and more about Helpling, an online marketplace for house cleaners and customers. A quick Google search turned up an amazing opportunity: a supposed earning potential of up to 5.200 EUR per month, quick account activation, and the possibility to decide your own rates and hours.
Sounds too good to be true?
Of course, it was. The catch is that workers are competing for cleaning appointments with hundreds or thousands of other profiles with their own rating and level of experience, and that out of every euro they earn, Helpling takes a considerable percentage as a commission "for the mediation of the services."
With thousands of registered cleaners, a high number of whom are immigrants without knowledge of the language spoken in the country they live in, the company turns the promise of the gig economy on its head: instead of offering proper employment, it caters to a clientele that seeks the cheapest services possible, negatively impacting people whose work is exploited and who have few if any methods of fighting back.
"They take too much from us"
Since its launch in Berlin in 2014 by entrepreneurs Philip Huffman and Benedikt Franke with backing from the 'startup factory' Rocket Internet, the company has expanded tremendously and raised millions of euros from investors. It now operates in ten countries, always adapting the language it employs to justify this practice. In Germany, it clearly tells cleaners that they must pay a commission. In the UK or the Netherlands, it's called a "service fee" that's added to the rate. 

Whatever the wording might be, the system is set up so that the amount charged by Helpling for the first three cleanings with a specific client is 39% of the agreed price, and after that, it comes down to 25%. For one-off cleanings, it's 32%.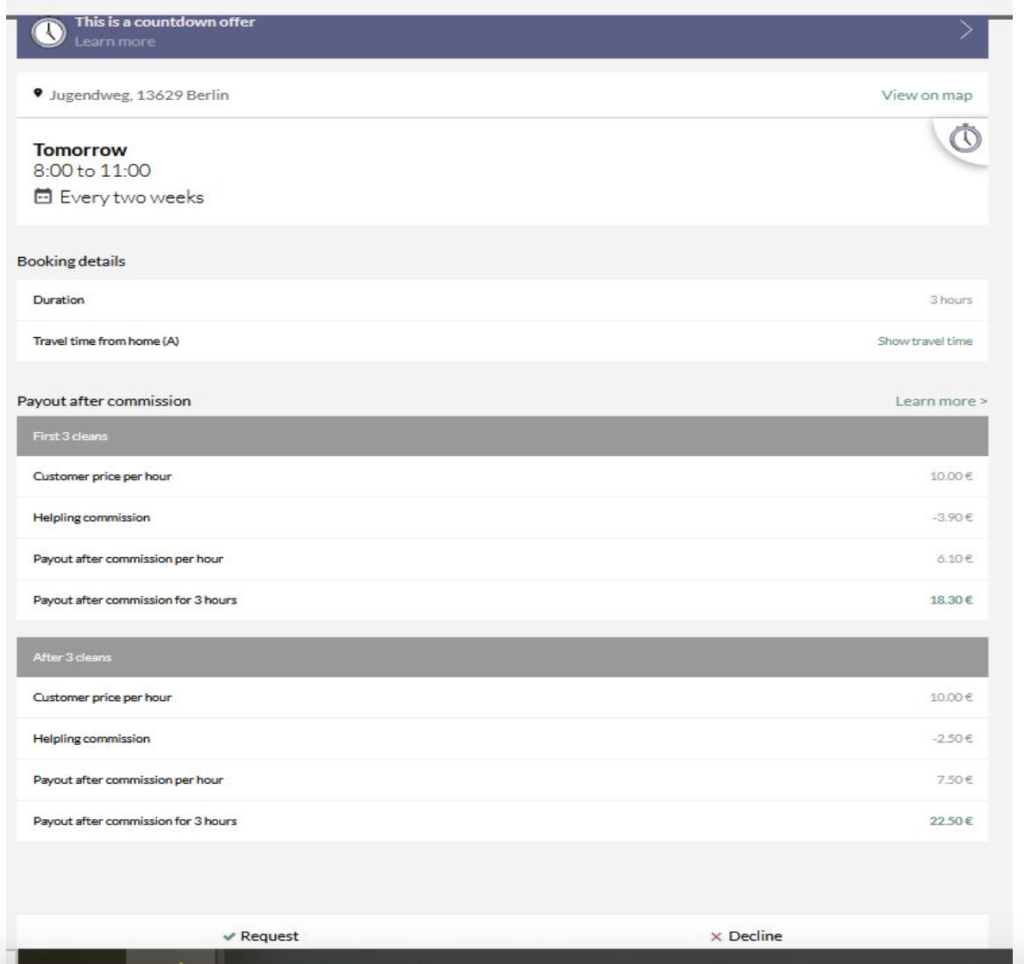 The above screenshot from Helpling shows an offer for a twice-a-month cleaning job where the price set is 10 euros. The cleaner stands to make 18,30 for three hours of cleaning work, not including what they have paid for supplies or transportation.
"For us, it's an evil we have to accept. Faced with not finding work and not being fluent in the language…well, we take what we can get," *Nani, a Helpling cleaner tells me.
If a cleaner in Germany doesn't have any reviews or cleanings to their name on the platform, their only option is to bring their prices down until somebody chooses them. If they bring it down to 10 EUR per hour (the lowest that Helpling allows), then they only receive between 6.10 and 7.50 EUR after the platform takes its cut. For comparison's sake, while the self-employed don't qualify for the same employment rights and must pay for their own social security contributions, at the time of writing the minimum hourly wage in Germany is 10.45 EUR.
In addition to cleaning, people that sign up for the platform must also use their own free time to find and schedule appointments, discuss specifics with the clients, purchase certain equipment with their own money, and travel to the location. The travel costs are paid by the cleaners themselves, or as Helpling puts it, "included in the hourly rate." 
Even though it's not shown in the invoice they receive, nor mentioned in the Terms and Conditions (Section III, Subsection 3.1), most customers assume that Helpling charges a commission from the cleaners, but likely do not know high it is. If they do, and also have a good relationship, they sometimes agree to work directly with the cleaner without using the platform as an intermediary.
To ensure that current and potential clients choose people from the platform, Helpling takes several actions that portray other cleaners in a negative light or as potential criminals, such as insisting they "fight the black market" and including theft insurance as one of its main benefits. "Our platform creates more freedom for the finer things in life: family, friends and free time, and at the same time offers an attractive alternative to the black market," they write on their website.
Several cleaners told Unbias The News that these tactics are successful, and often clients choose to continue hiring through the platform.
"Some of my regulars still want to pay through the app because they feel safe. Helpling has my data, my address, everything. If something is missing, they know how to get to me if they suspect I stole it. And also some of them simply want to pay the commission just because it has to be that way and they feel they are breaking the law if they hire me directly," says Andrea, 30 years old.
Another feature that's promoted as a benefit is liability insurance up to 5.000.000 EUR in case of damages. However, until the end of 2021, the money "for damage under 350 EUR and for the first 350 EUR of a larger damage" came out of the cleaners' pocket. That amount is now 25 EUR.
Since the cleaners have no way to interact with one another on the Helpling platform and work alone in isolated private spaces, it becomes extremely difficult to push for collective bargaining, and the idea creates fear of losing an income source.
Therefore, they rely on other methods to support each other, such as WhatsApp groups to share advice or spreadsheets detailing which clients to avoid. "Refuses to pay", "lies about damages", and even, "has literal shitstains on the walls" are some of the experiences listed. One woman reported that instead of providing her with basic supplies, a customer gave her "just a broom and paper napkins to clean an entire office."
This isolation from one another and the public view not only makes it unlikely that the cleaners will get popular support (like in the case of Gorillas) but also exposes them to dangerous situations. Several workers have reported instances of unsanitary work conditions, discrimination, excessive requests in exchange for a good rating, and abuse.
When asked if there's any system in place to address such situations, Helpling explained that "if such an incident is reported to the police, the client normally cannot make any further bookings via Helpling."
In light of all these issues, the Oxford-based Fairwork research project, which evaluates labor standards across the platform economy, assigned Helpling Germany an abysmal score of 2 out of 10 in its 2021 report and stated that the company doesn't provide fair pay, conditions, management, and representation.
According to Oğuz Alyanak, postdoctoral researcher for Fairwork and one of the report's authors, the cleaners face several major obstacles if they wish to come together to negotiate: most of them have negligible knowledge of German law, little to no support from Helpling, and must do this on their own time.
When asked whether cleaners have an opportunity to raise issues to the company collectively, Helpling told Unbias the News, "Cleaners can contact our customer service at any time."
Since the "Great Recession" there has been a tremendous rise of employment in the so-called "gig economy," where workers can find independent work through web platforms. But such gig or digital platform work has raised unique challenges for labor rights around the world. From Silicon Valley, to India, to Europe, workers have found flexible work as food deliverers, drivers, childcare providers, translators, cleaners and much more. But these jobs often evade regulation and lack basic protections.
The state of California, where many large platforms were founded, became one of the first locations to regulate platform work in 2019, but platforms fought back and managed to support a referendum exempting them from regulation that was struck down. Now, the EU is working to classify a larger number of "independent contractors" as employees with access to labor rights. But profitable platforms like Uber have shown themselves willing to go to great lengths to lobby against regulation.
The need for more regulation
With over 28 million people working in the EU through digital platforms, the labor ministers of the member states have been working to bring more transparency to this kind of work for a long time. In December the European Commission adopted a proposal for a directive aimed at improving the conditions of platform workers, such as ensuring that self-employed people are classified correctly and can negotiate collectively with the platforms.
According to the German Ministry of Labor and Social Affairs, one of the main goals is providing self-employed workers in the platform economy access to basic protective mechanisms under labor and social law, and that these companies take on more responsibility, particularly the ones that "do not limit themselves to a purely intermediary role."
But while these changes will require a long time to go into effect, in the more immediate future cleaners have to grapple with a system that takes their hard-earned money without providing basic care. So all of them have their bits and pieces of advice to make the situation more bearable: setting up the rate so it never goes below a certain amount, putting the commission out of their minds, or just toughing it out.
"If I think about how much the company takes I just get depressed. So this is what I tell everybody: think of yourselves, the money, and doing the job well. Put yourselves and your mental health first, because Helpling and the clients won't. There's no empathy," says Soledad.
Editor's note: Hostwriter, the parent organization for Unbias the News, has used Helpling services to clean their office.
Please consider a donation to support the work of our feminist newsroom. We create a space for journalists facing structural barriers, working towards a more equitable, inclusive world of journalism. Join our mission today!