"All Die Na Die": At the Heart Of Nigeria's Soot Problem
Illegal oil refining is causing irreversible damage to the environment, the people, and the air in Port Harcourt, Rivers State, South-south Nigeria. While the government said it has dismantled illegal refining sites, a visit to different refining sites confirms otherwise. 
The sun is not out today. The sun has not been out for days on Eagle Island. Surrounded by black water and dark skies, Eagle Island in the south of Port Harcourt, Rivers State, sometimes looks like the middle-class estate that it was designed to be; other times, it looks like the dreadful beginning of a film noir.
The day is April 1, 2022, and the purpose of visiting the edge of this community that is below sea level at a negative 0.4 metre is to test the air that has become so dark, that it prevents the sun from shining.
Timelapse video of air quality testing being carried out on Eagle Island. In the background is NPA, Port Harcourt. April 1, 2022. Photo by Muhammed Akinyemi.
"There na NPA," our fixer — who will be called Senior Man to protect his identity — says, upon being asked what the large reservoir tanks and dead ships overlooking Eagle Island were. The Nigerian Ports Authority (NPA) as named is responsible for operating and managing ports in Nigeria. 
Apart from broken-down canoes abandoned on muddied quicksand, decaying used products, previously see-through plastic bottles now darkened by either fire for burning refuse or soot, plants dying one leaf at a time, and a dog barking in the distance to solidify the noir ambience, this place is almost quiet.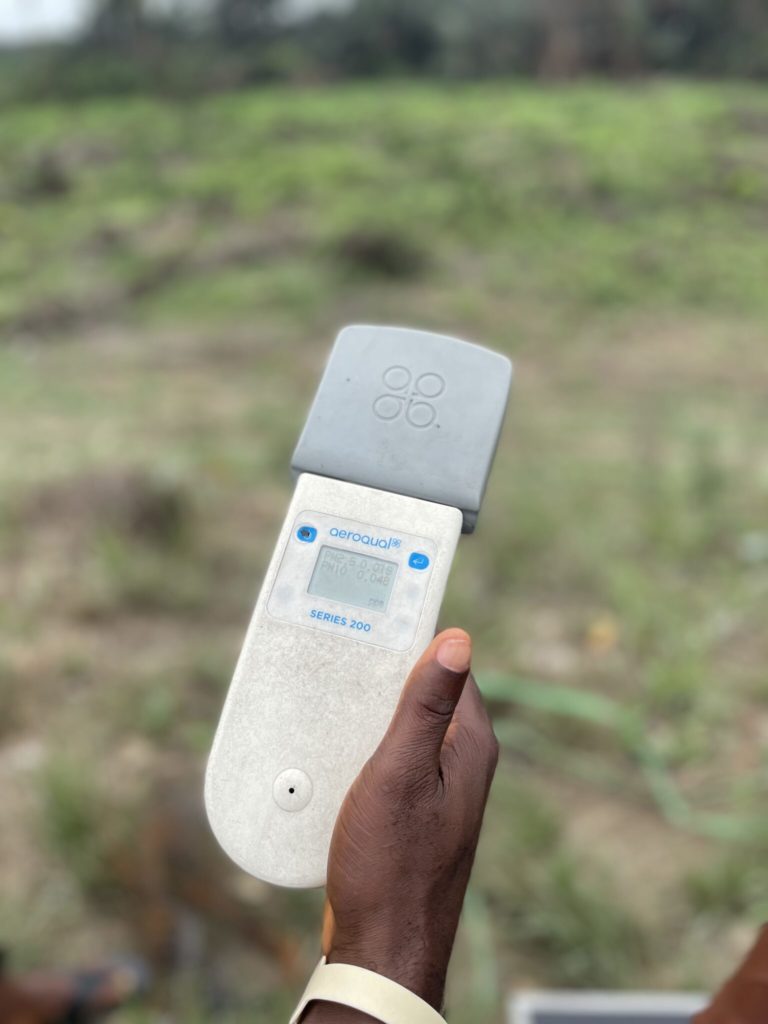 Testing kit used for checking the air quality across Rivers state occasioned by the soot menace in the state. Mr Ese claims the kit costs between two and five million naira. April 1 – 2, 2022. Photo by Muhammed Akinyemi.
The air quality testing continues, until the air quality testing professional, who wants to be on record as Mr Ese, breaks the silence. "I have been trying to work on this for some time but there is obstruction of our work," he says, lamenting government interference in the work of environmental researchers. He will mention the next day at a restaurant in a different part of town that "you can't just come out and say you want to take samples … government agents can seize your equipment and the equipment is expensive."
What Mr Ese is searching for in the air with HumAngle is what has been responsible for the dark clouds surrounding Eagle Island, and several parts of Rivers State in South-south Nigeria. It is also allegedly responsible for rising respiratory ailments: 
But there is a darker reason for the unending harassment of the atmosphere and quality of life across Rivers State. This reason spreads its wings beyond Eagle Island, soars high into the sky and dives into the swamps and creeks of the state. 
That darker reason is the illegal oil refinery industry. But first, let us understand the soot.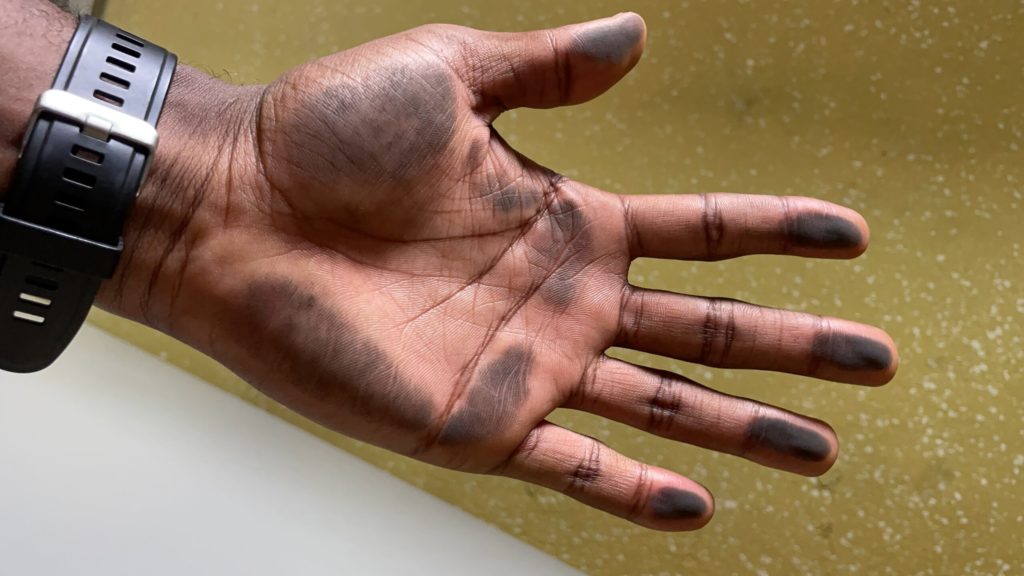 "Black soot is caused by anthropogenic (human) activities like burning of biofuel, illegal mining of petroleum products," Mr Ese tells HumAngle.
Soot is a visible powdery substance that falls from the atmosphere as a result of the incomplete burning of substances. The heavy smoke enters the environment and becomes apparent on people, structures, the ground, and every other physical object it comes in contact with. It can travel far from the places where it is released.  
Dr Royce Itefue, a resident doctor at the University of Ilorin Teaching Hospital (UITH), explains that "soot deposits chronic exposure in the airway causing inflammation, lung dysfunction, and altering the respiratory process. These then lead to respiratory diseases such as chronic obstructive pulmonary disease (COPD), bronchial asthma, chronic bronchopulmonary dysplasia, and lung cancer."
Since 2015, Rivers State has suffered a recurrence of soot covering its air and lungs. While soot may be caused by illegal refining using crude tools, there's evidence that legal and proper refining contributes too. But Mr Ese confirms that the refineries in Port Harcourt and across the state are not functioning. "They are not refining any product," he says. "[Most of the] black soot is caused by illegal human activities."
Samuel's house in Port Harcourt is miles away from the local government area where he is Chairman but assures HumAngle that he governs it efficiently. April 5, 2022. Photo by Muhammed Akinyemi.
Yet, Eagle Island and other places around the Rivers State capital are breathing in soot. 
Mr Ese mentions three days prior that soot is transported via wind and that, while the government may have burnt some illegal refineries, the wind still transports the material from other active refineries, causing the endemic to persist, although on a lesser scale.
HumAngle then travels to the root of the soot, in a community surrounded by illegal bunkering, wealth and suspicion.
Money no get cousin/Isaka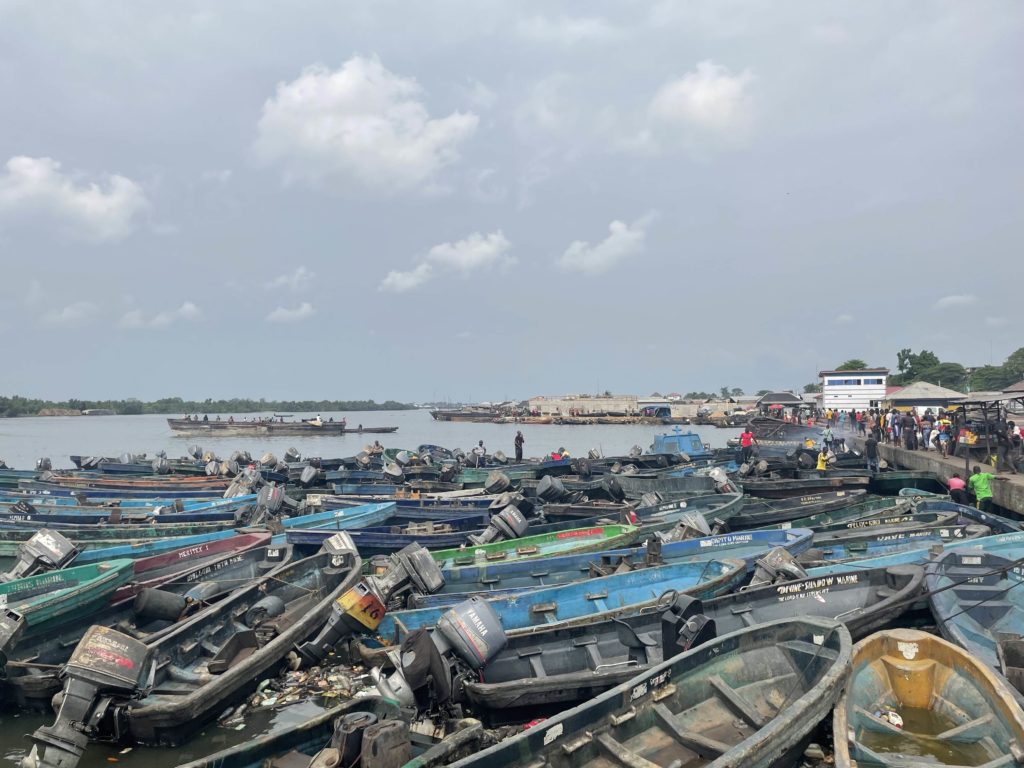 Photo by Muhammed Akinyemi.
Senior Man knows that illegal refining happens daily but he does not have the clearance to access any of the sites without getting shot either by government agents or by the illegal refiners, he says. So we travel 9 km away from Eagle Island to a different part of the city to meet another fixer.  
There are many ways to identify privilege in Port Harcourt. Having a clear, blue sky is one of them. And the place where our new fixer lives exemplify this. 
This new fixer used to be a bunkerer (an informal term used to describe people involved in the theft and processing of crude oil); he owned a boat and worked as a distributor. Since he stopped the trade months ago because "it was harmful," he has since focused on academics, studying to obtain a mass communication degree. 
He introduces himself as Junior, although it is clear that is not his real name. Over two days of travelling across Rivers State with Junior, he will tell us in bits that revealing anything that can lead back to him will put him at risk of arrest, harassment, or even death from either state or non-state actors.
Junior is about five feet and nine inches tall, with every visible skin calloused. Dr Itefue says that chronic exposure to soot can cause skin irritation which could be severe. "It can cause DNA mutation in the skin leading to the development of skin cancers like squamous cell carcinoma. It is also associated with pigmented spots on the skin, increased skin wrinkles, and extrinsic skin ageing." Junior's skin 'condition' may be because of the soot or direct exposure to crude oil. Whichever it is, it does not bother him.
The first outing with Junior is to take our air testing equipment close to the illegal refining sites. 
We drive a 4.5 km distance through the dour roads of Port Harcourt, littered with waste and campaign banners, to Bonny-Bille-Nembe Waterfront. The jetty leads to several other communities including Isaka, where legal and illegal activities happen without interference from the outside world; at least not often. 
As long as there is enough money, everyone is okay. Our boat driver, whom Junior likes to teasingly call Pilot, puts this into a maxim; "money no get cousin," meaning that you can't buy things based on your familiarity with the vendor. "You don go buy something before wey dem tell you say make you take am for free because say na your cousin?"
It is, therefore, important to them, more than protecting the environment, that they make money.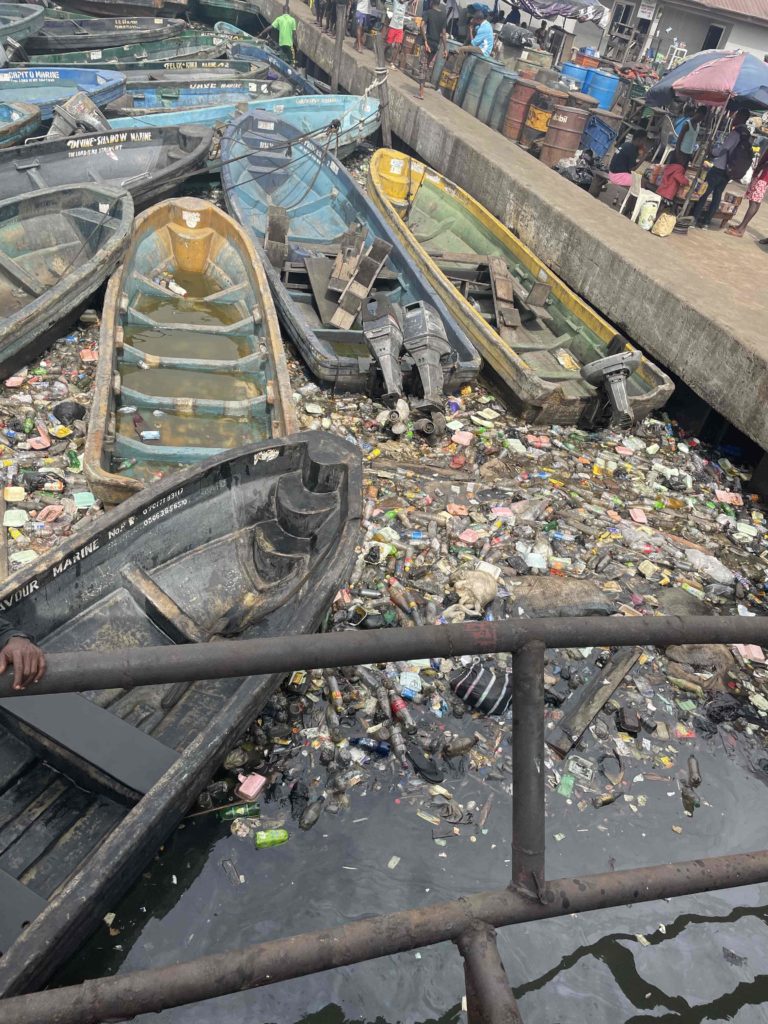 Despite non-stop commercial activities on the jetty, a second is not spared for the health of the water nor is there an overt attempt for its maintenance. Days after HumAngle visited the jetty, a fire incident occurs here, killing a pregnant woman and others. April 2, 2022. Photo by Muhammed Akinyemi.
The destruction at the edge of the jetty pales in comparison to what we see as we drive into Isaka, 3.7 km from the jetty. The water has several visible layers, each with different levels of dirt. Floating on the top is oily film rainbowing and distracting from the deep dark depths of the water. When we get to Isaka, Junior and Pilot both greet some men working at a mini jetty (like a boat bus stop) and we proceed further into the creeks. 
From there onwards, there is no other sign of life on the water except our speedboat. Pilot expresses concerns that he can't go too far for fear of trespassing into other people's territories. I ask Junior what that means since we can't see other people around. He smiles and points to some pipes peeking out of the water; "na people get am." I would learn later that the mostly vandalised oil pipes were 'bunkered' by illegal refiners to disrupt oil flow and redirect them back to their camps where they then refine it, package it, and bring it back to town to sell.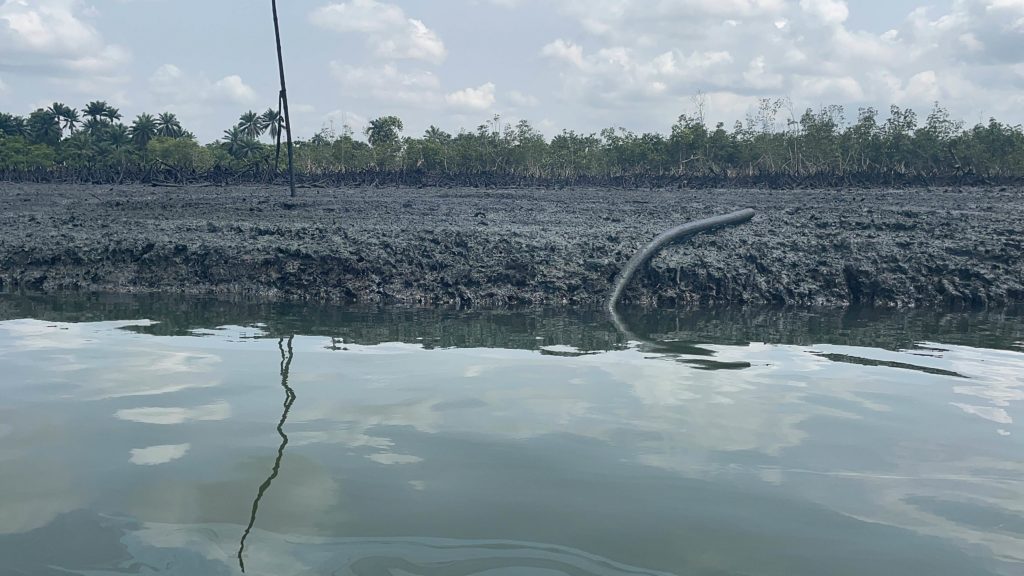 The pipes are connected to bigger pipelines carrying oil. Each pipe cluster belongs to a bunkering group and it is the pipes that service the illegal refinery sites across the different communities where kpo is being refined. April 2, 2022. Photo by Muhammed Akinyemi.
The air quality professionals begin to take samples. When the results come in days later, it confirms what we already suspect. 
As we turn to make it back to land, we see what looks like a cattle egret, blackened from legs up to its neck, looking for food. But there is nothing in this water for it, except maybe dirt and death. When we return to the jetty, we see that the water level has reduced drastically in comparison to an hour before, making it possible to see deeper into it.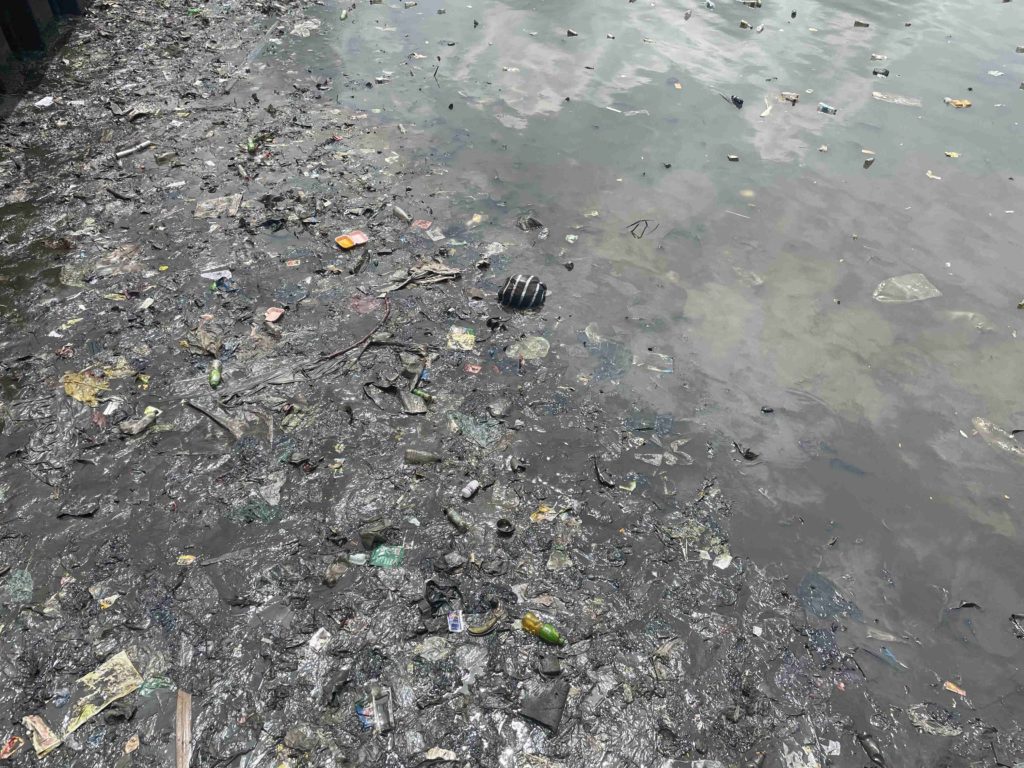 What is at the bottom of the water is more obvious, and even more disgusting. Disasters, like money, do not know about cousinship. They come for everybody. But who cares?
Kpo is the local name for petroleum products refined illegally in Rivers State and across the Niger Delta region of Nigeria. The equipment used for refining is called an oven. And the fire under the oven is called Kpo fire. Kpo fire is what creates the soot.
The oil is transported from bunkered pipes to the refinery sites where it is put into 'ovens'. After the oil is cooked in the ovens, the refined product is transported back into kegs which are put in waiting boats and canoes. Illustration by Akila Jibrin.
The economic impact of Kpo in Rivers State alone may be difficult to know. When we ask Junior, he says it is a "multi-million naira investment" but is unable to give specific numbers. 
In a recent Bloomberg interview, Gbenga Komolafe, CEO of the Nigerian Upstream Petroleum Regulatory Commission (NUPRC), said Nigeria was losing "150,000 barrels of oil a day to criminals who illegally tap pipelines." 
Kpo harms residents in another way too. Despite years of refining, the bunkerers still make sub-par oil with life-threatening or terminal consequences. A 32-year-old cab driver who introduces himself as Ibitare Etiokheme and lives in downtown Choba, at the outskirt of Port Harcourt, tells HumAngle that "the kerosene from that process is not good for cooking because it usually explodes once you light your stove."
Although Etiokheme understands that Kpo fire is responsible for soot, and Kpo has exploded in his kitchen before, he advocates for the continued existence of the Kpo industry. His reason is simple: "It is still better than allowing the guys [bunkerers] doing it to go into crime such as robbery. The Kpo Fire business has reduced crime rates in the state because [the] majority of those who used to block roads, do robbery, and kidnap are now into it."
"I would also say it has reduced militancy in the state," he adds, before appealing that "the government should help the masses by doing the right thing."
What the right thing is, varies from person to person. But there seems to be a consensus among several residents that HumAngle spoke to that the Kpo industry has to be sustained; they want the government to create modular refineries and work with the bunkerers. Modular refineries are smaller, less capital-intensive versions of oil refineries. 
Mr Ese, advocating for this too, argues that "when you introduce modular refineries, we will see another mode of refining petroleum that is not harmful to society."
A resident in his 50s who spoke anonymously to HumAngle at his house on Eagle Island drags the line of thinking even further.
The modular refinery is an environment-friendly, smaller version of a normal refinery. Many people are advocating for its adoption and for government to convert illegal refiners into government workers to utilise the modular refineries. Illustration by Akila Jibrin.
"The governor [of Rivers] has exposed the federal government's inability to make this thing (petroleum products) available. By stopping the local refiners, that is when you'll begin to experience a hike in the price of petroleum products in Nigeria," he says. 
Although the official reason given for the fuel scarcity across the country is the contaminated oil, the resident's timeline matches when fuel scarcity became widespread in Nigeria, as well as when the Rivers state government started dismantling bunkering sites.
"This means that the local refiners are the people supplying the country," he argues. "When they were refining, up to Dec. 2021, the things were available and cheap. If they partner with these boys, with their experience … now some of them use electricity, generators to reduce smoke … and they train here in Nigeria…" he trails off for a while, before closing his statement: "they are supposed to partner with these boys. They can produce what will satisfy Nigerians."
Lamenting his situation, he claims that diesel was cheap prior to the dismantling of ovens. "You can afford 25 litres for like ₦2,500 and use it to run your generator. But when they came and stopped them, we couldn't afford it. Twenty-five litres of diesel is now about ₦6,800 and that is if you see it o. [The price of] kerosene, which is the one people use most, has become high. Twenty-five litres is about ₦5,000, ₦6,000." 
Perhaps in the future, there may be discussions on modular refineries and using Kpo bunkerers to refine oil, but the Ikwerre LGA chairman, sharing the decision of the 'State Security Council,' tells HumAngle that "the governor has said that we will not tolerate or negotiate with anyone involved in oil theft because those people are worse than Boko Haram," referring to the terror group ravaging Northeast Nigeria for over a decade. 
Another factor could be that Nigeria's 1999 constitution puts "mines and minerals, including oil fields, oil mining, geological surveys and natural gas" under the exclusive legislative list. This means expansive decisions on them can only be made by the federal government. 
Nwanosike mentions that the decision to burn the illegal refining sites is preceded by a visit from Nigeria's Vice President Yemi Osinbajo to several communities in Niger Delta. And, in the course of the visit, "he promised that the federal government has made adequate arrangements for the issue of illegal refineries to be a thing of the past."
Affirming the supremacy of the federal government, he adds that "property confiscated (from bunkerers) by our people have been taken over by security agencies" and have since been handed over to the Economic and Financial Crimes Commission (EFCC), a federal government agency.
While the possibility of recruiting the bunkerers or totally eliminating them hangs in the air, business is going on in the creeks, though the state government claims there is nothing of such.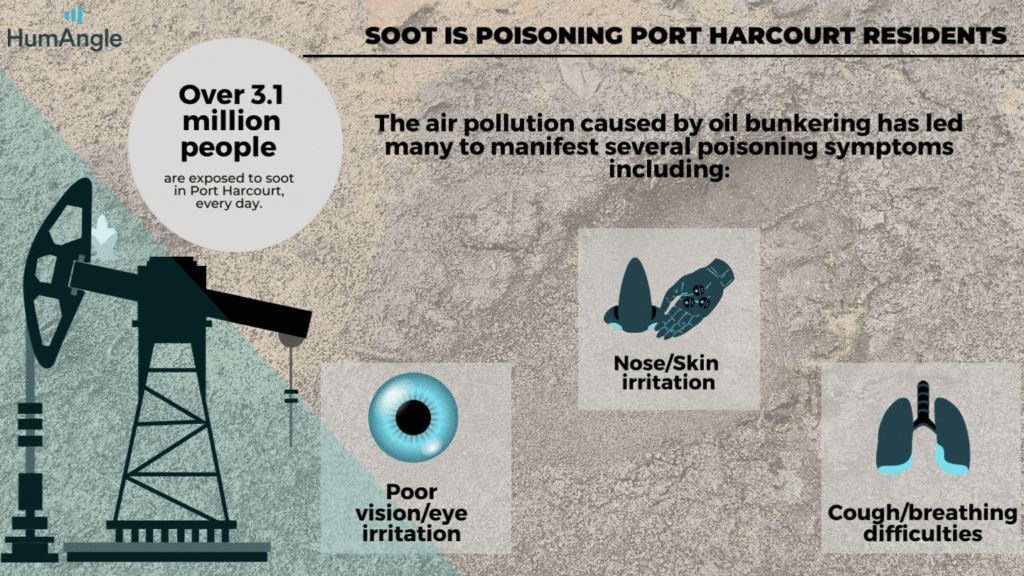 Impact of soot on the health of residents. Illustration by Anita E. Eboigbe.
"It's an illegal refinery. It's an illegal business. But the community adopted it based on one or two reasons," Junior, with a stick of weed burning between the index and middle fingers of his left hand, shares his thoughts as someone who has been a bunkerer and understands the industry.
Earlier that morning on April 3, when we met Junior for his interview, he took us to an active site where Kpo cooking happened overnight. The jetty we use on this day is less crowded and less open than the one at Nembe, but it is quite busy regardless, especially for a Sunday morning. There is a car parked by the jetty and Junior confirms later that it is a pick-up car for extraction done overnight. 
Our 'Pilot' for this trip is familiar with the overnight bunkering business and is suspicious of us, despite being an old friend of Junior. 
Junior assures him repeatedly that we are representatives of businessmen interested in buying Kpo and the reason there is a gimbal in our possession is to take pictures for the people we represent, as they will not invest money without evidence.
Begrudgingly, he pushes his boat into the water as Junior advises that recording devices be kept away until we are far into the water and close to "location".
The journey to Okrika is scarier and has more fear factors than the first journey to Nembe. Aside from the extant possibility of being shot by state (Naval officers on patrol) or non-state actors, the suspicion from the 'Pilot' also indicates he would not hesitate to leave us exposed if he was confronted by the need to do so. April 3, 2022. Video by Muhammed Akinyemi.
There are lots of pipes peeking out of the water but that is because there is a government-owned oil terminal nearby. There is also an NPA dockyard not very far from this isolated jetty.
Junior explains that the site we are going to is in Okrika, but does not mention specifically what community. Okrika is an island with a lot of cluster communities and we pass through several mini jetties and mini-communities on our way to the Kpo camp. 
When we get to a residential community, we see 'Slow Down' signposts planted into black mud. Our Pilot slows down and Junior reiterates that we need to keep away any recording device as it may put us at risk. The gimbal and camera immediately go under the bench we are sitting on. 
The community is a bee-hive of activities. There are people filling up water with sand to commence construction on a small plot of land. There are people littered in front of different houses; drinking, chatting and working. There are small boats tied to little jetties and large boats turned upside down on land. 
Two buildings stand out: they are both painted green, are storeyed, and are surrounded by smaller unpainted houses. They will both qualify as mansions in this place. 
Junior and the Pilot greet people as we slowly pass through the community. One man, towel hanging loosely around his waist, shares his itinerary with Junior; "I dey go church soon," he declares. When we pass the house some 30 minutes later, another boat will be ferrying a lone passenger and Junior will greet the person, then inform us that the person was his Pastor. 
Although a federal government territory, this place is under the control of two brothers. They own the 'mansions'.
"Na Trust and Eddy get this place," Junior says after we pass the humans and their houses. Junior spends the next 10 minutes talking about Trust and Eddy in glowing terms. They are renowned bunkerers who are respected as model figures around Okrika. Although they pollute their water and air, Junior mentions that Eddy and Trust build schools, provide scholarships, and give people houses.
In return, the community worships and protects them, and any activity that will compromise them will result in bloodshed "because of the money," Junior says.
"This thing is closer to them, it is their God-given resource and it is very easy for them to process it. It gives them money but it kills some people and it is not fair."
The soot problem in the city is tied to oil bunkering which causes Nigeria to lose billions and endangers the health of residents. Video by Anita E. Eboigbe.
The earth is soft, like wool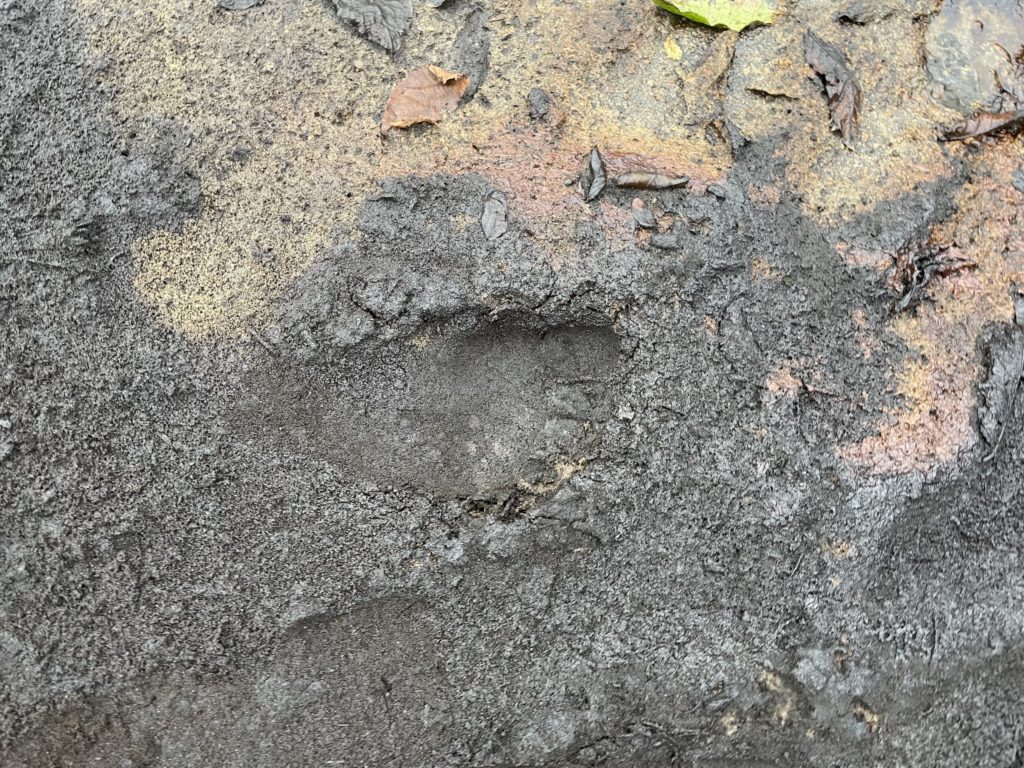 The bunkering camps close to this community belong to Eddy and Trust, and non-indigenes are not allowed to own camps here. We continue on the water slowly for about five minutes, then we exit the residential area and return to about 60km/h speed. The water gets darker than the devil's soul as we progress, decorated with silver linings caused by spilt oil.
When video recording resumes, Pilot expresses concern to Junior, who immediately reassures him that we are only interested in the business. Although the plan initially is to return at night when the cooking is at its peak, Pilot becomes agitated and insists that unless you work with the government, you have no business being at the camp at night.
There are several recent footprints across the campsite indicating that it is not only active but a lot of people were there overnight, some with footwear, some barefooted. April 3, 2022. Video by Muhammed Akinyemi.
"Make dem just come for [tomorrow] morning, carry fuel, pay, commot," he imposes. He adds that if we come at night, we are also at risk of getting mauled if we do as much as raise a camera, even if it's from a phone.
The camp is an isolated stretch of land with dying vegetation. As Pilot docks the boat with support from Junior, there is a lone man on the campsite overlooking the water. After we make it to land and start to explore the camp, the man disappears into the woods. 
The campsite is a wide stretch of land scattered into different units. There are parts with unrefined oil, some with crude oil that has been filtered out, and the main part where the oven is located. The camp is also surrounded by multiple berthing areas for easy access to the camp. April 3, 2022. Video by Muhammed Akinyemi.
The air at the camp is warm and hostile, tugging at noses in suffocation. But the earth is soft, like wool; a result of crude oil contamination. Each step sinks into the earth. Although there are no visible persons aside from us, there is a country of fresh, visible footprints scattered across the camp. 
Giving a tour, Junior explains that the oven, a large reservoir the size of a truck, is where the crude oil is passed through pipes that we see littering the camp. The cooking, which happens at night now, is sustained by directly pouring crude oil and other materials — usually chopped off trees — into the oven's furnace to keep it running. There are metallic pipes that travel from the oven to a collection point towards the oven's left, where the Kpo is collected into kegs and other containers. 
When the collection is done, they move the kegs into waiting boats and ship them out of the camps. All of this happens from sundown to the crack of dawn. By the time the first sign of daylight is visible, the cooking and collection are already done. What happens afterwards is that the badly burnt crude oil from the oven rises into the sky, and travels to different places as soot.
"People die. People that are not even benefitting from it. And the risk is too much," Junior says. What is striking, however, is that despite the visible soot, many residents are only concerned about the physical impact, like stained walls, dirty cars, and extra cleaning. 
Otherwise, they don't care much for death. 
Murtala Abdullahi mentions further that sometimes oil spills that affect the ecosystem are "also caused by government and security interventions designed to target and destroy these [illegal] refineries." He is not wrong.
Days after visiting the Kpo camp, Nwanosike, the local government chief, will claim boldly in his house that the government "identified over 265 illegal refineries and we took our time to tear all of it down. As we speak, none of those sites is standing today."
Although he says that "we used smart technology to bring down and shred all the illegal refineries," images available online show that all demolitions so far have been done crudely, equally contributing to environmental pollution.
When Mr Ese says that "everybody is still going about their normal lifestyle. We are used to the black soot, it is just like HIV," we think that it is a reach. But a survey carried out by HumAngle reveals that although there is an awareness that soot is harmful, not a lot of medical care or attention is taken.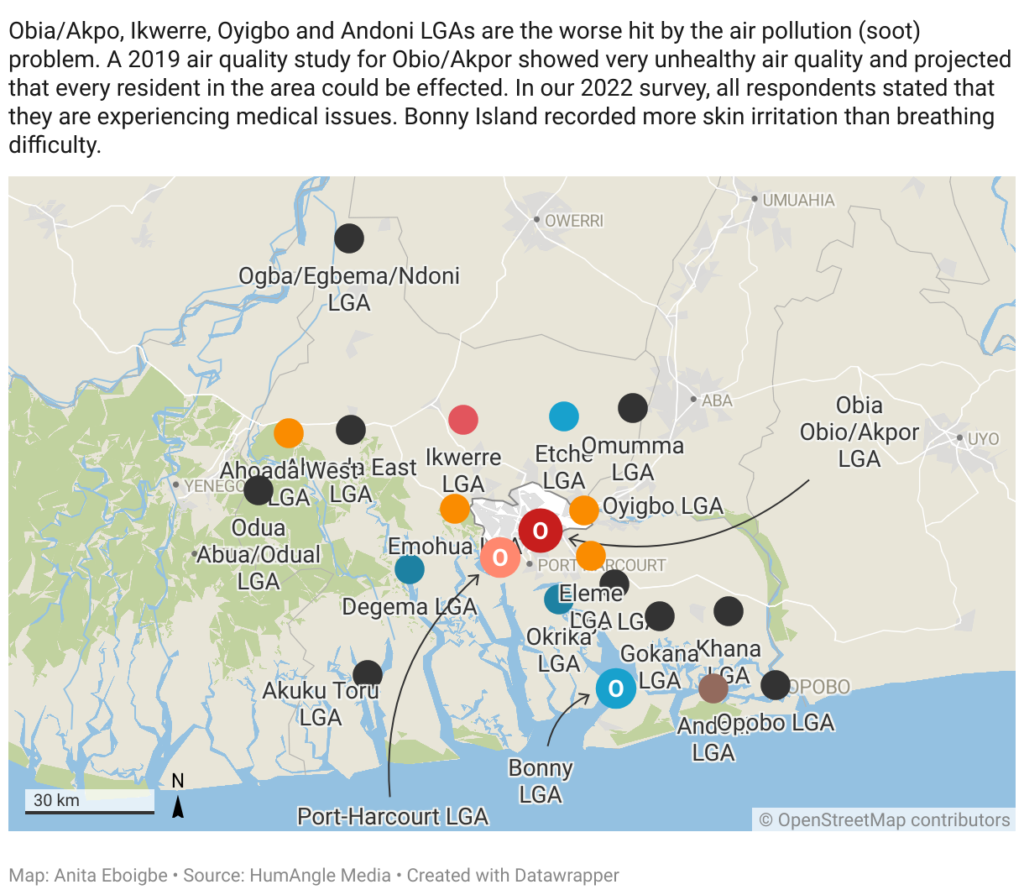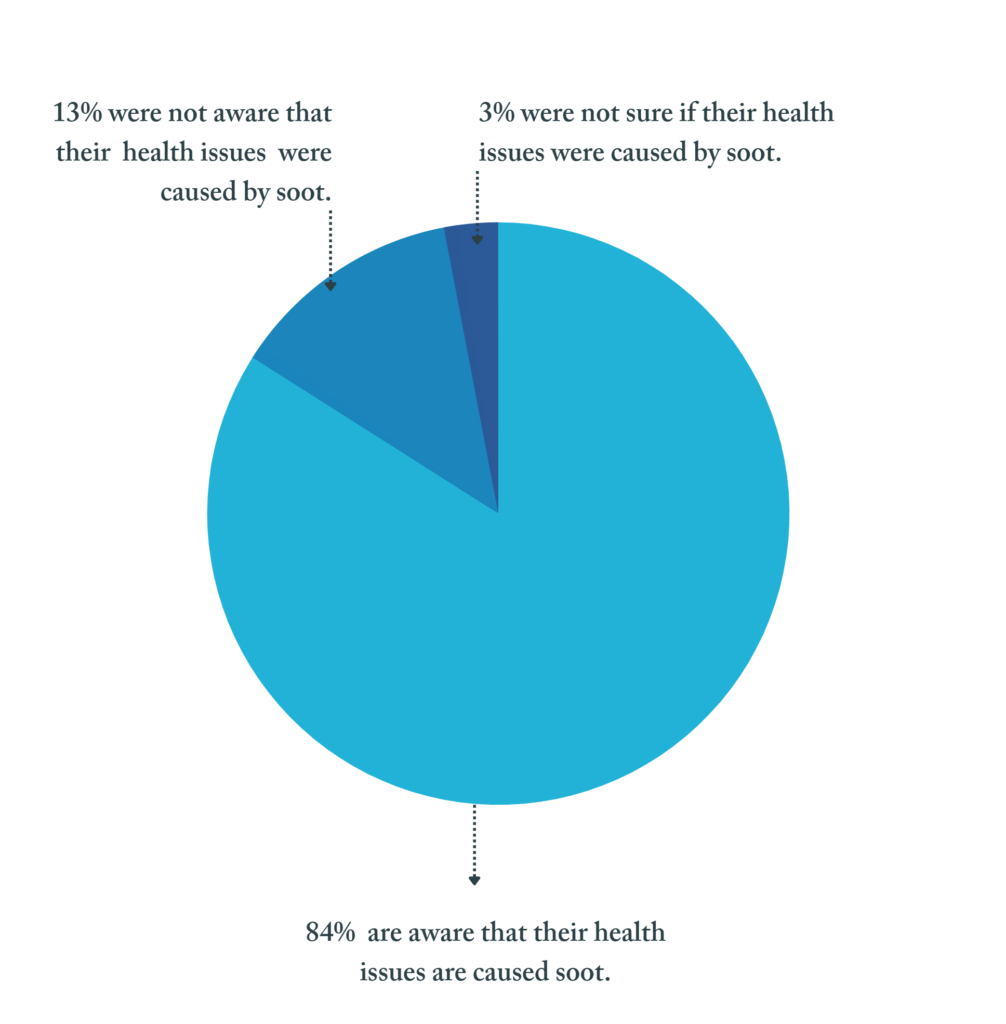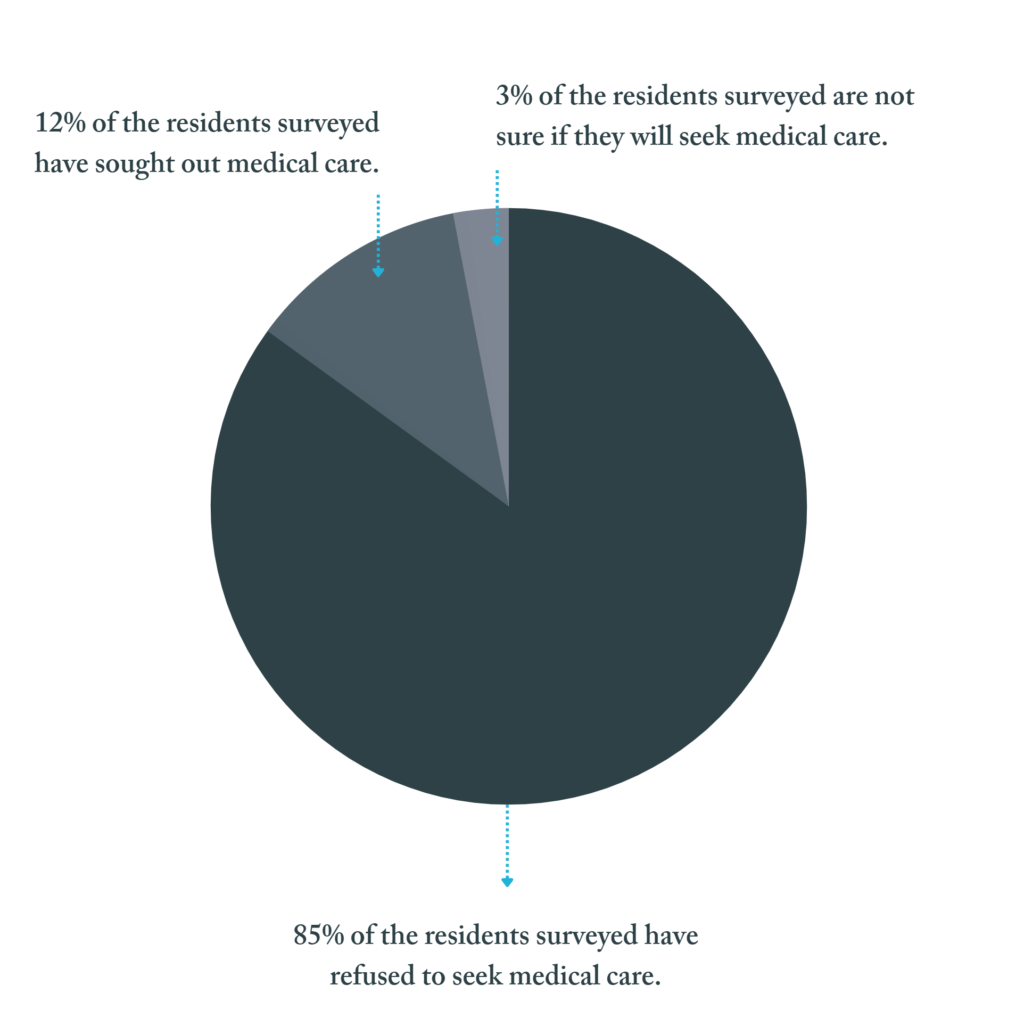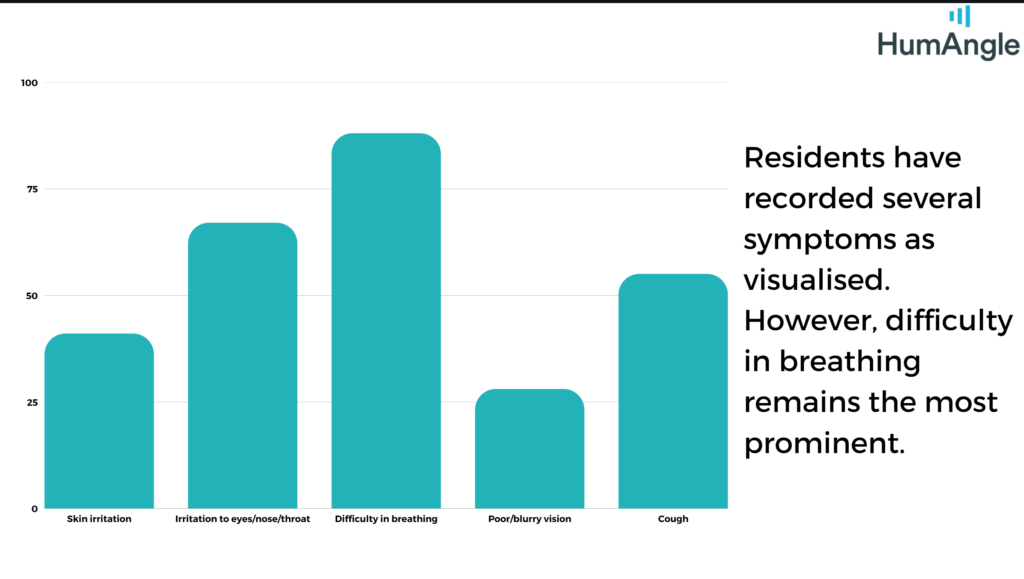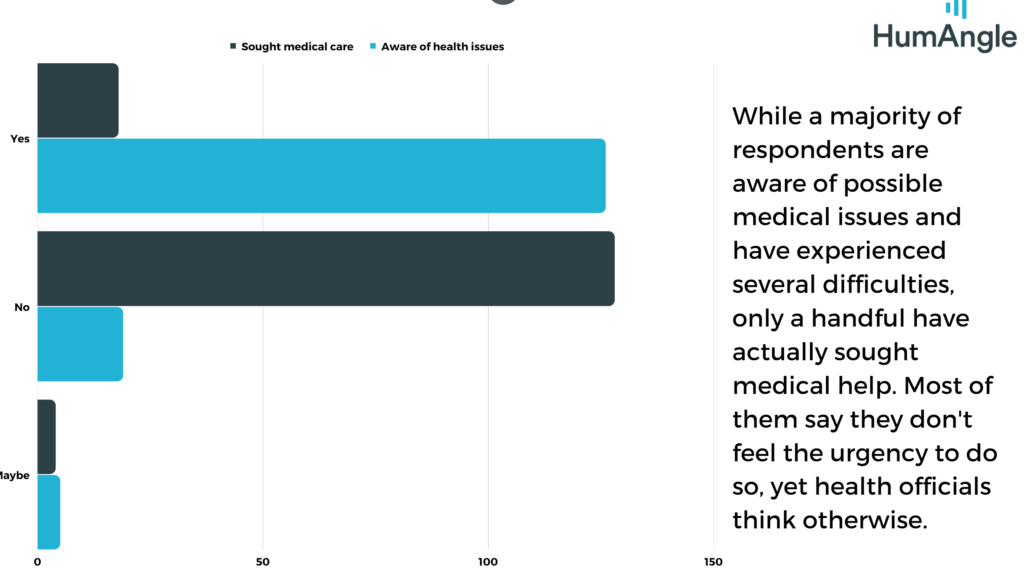 An Eagle Island resident, who gives her name simply as Peace, laments that "when you wake up [in the] morning, even [in] your nose, you [will] observe black soot." As a mother, she says she knows that "it has future implications. It will cause us a lot of sicknesses and diseases … When we treat our children, in terms of cough, we find out that it continues without stop."
Although she believes that soot is responsible for her daughter's persistent coughing, there is no medical evidence for this as she has never considered running a diagnosis.
While negligence may be a factor, the price of running the tests is an important consideration. "To evaluate the impact of soot in the airway, some basic tests are important," Dr Itefue says: "Chest radiograph or computed tomography (CT) scan of the chest costing roughly ₦10,000 to ₦15,000 and ₦40,000 to ₦60,000 respectively depending on the severity."
But that is not all, "pulmonary function or spirometry test costs around ₦5000 to ₦10,000, sputum cytology to check for cancer cells in the airway is also necessary," and "bronchoscopy, however more invasive and expensive, costs around ₦30,000 to ₦50,000."
Rather than take these expensive tests which are higher than Nigeria's minimum wage (₦30,000), Peace follows her gut. She knows soot is responsible for her daughter's ailment, because "as a mother," you can tell what is wrong with your child. When HumAngle asks if she will ever consider relocating, she asks us: "Where will we move to? The only way out is to move abroad. But do we have money to do that?"
Senior Man shares his view on leaving in his soot-laced apartment too: "As a young man with dreams, there is always projection to leave. It's not as a result of soot or not. If you are making your money here, I don't think you'll want to leave." 
The manager of a hotel on Eagle Island laments its impact on his business, saying that the soot is causing his business "to buy so much chlorine" for the swimming pool treatment.
But when we ask about his personal health and if he has done any diagnosis, he simply doesn't care to know. He, instead, emphasises his support for the Kpo industry that "since we are marginalised in Niger Delta, we have product and we are buying it high, we also welcome it [illegal refining]."
He circles back to the impact on his business, saying that as long as the illegal refining continues, "every morning it increases the chlorine that we use … it's an additional cost." But he is okay as long as they wake up and are able to work with Kpo gotten cheaply from the bunkerers.
Another resident, who insists on not giving his name, vents his anger to HumAngle: "The soot as you can see, e dey worry people. We accept am say e dey worry people, but we can't run away because soot dey worry people. Hunger go kill young men." His statement gets supportive nods from other residents waiting to speak. 
Lamenting the unemployment situation, he says that a young man will not just fold hands and let death visit them. Instead, "e better make him hustle, die there, than make hunger kill am." Like the others, he affirms that the oil "na our own right."
If he has considered tests to know how the soot is affecting him, with veins visible on his forehead, he yells: "I never do all those tests. No be money I go carry do all that test? Even some people, when malaria knack dem, na paracetamol dem dey buy."
He returns to lamenting how people will rather die than stop bunkering, "Guys must survive … na to take the risk see if you go prosper or die."
Ignored health complications always come back, usually in fatal doses in the future, but this man hopes that "God go take care of that tomorrow." 
Either today or tomorrow, Dr Itefue mentions that the process of healing from soot's impact is quite tedious. "Medical therapy given to patients depends on whether they have symptoms or not. Those with severe symptoms are given emergency care; those with mild symptoms are treated on an outpatient basis. Usually, for outpatients, antioxidant therapy is effective to relieve symptoms."
But that is not all. "For long term management, we recommend from a nutritional point of view for patients to consume more food containing polyunsaturated fatty acids (PUFA) such as seafoods and cod liver oil. Such foods contain antioxidant and anti-inflammatory properties which are protective against the harmful systemic effects of soot. Also, the use of nasal filters in both nostrils helps to minimise the entry of soot into the respiratory system," Dr Itefue concludes.
As soot continues to settle into the nose and lungs of residents, Nwanosike, the Ikwerre LGA chairman says that "the state government is building [an] ultra-modern cancer and cardiovascular diseases centre at Rumuopukta, Obio/Akpor Local Government Area, and the construction work is being undertaken by Julius Berger Construction Company Limited and Siemens Electrical. When it comes online after commissioning, it will take care of the issue of the testing."
Nwanosike does not know when the said construction will finish, or if other healthcare centres will be built across the state to tend to residents. Proximity may be another challenge in the future if the state does build the said healthcare facility at all.
But for now, the government promises some hope.
'One thing must kill a man'
A neighborhood on Eagle Island
"I have eye problems. The soot has caused my eyes to itch," a young man living on Eagle Island says, as his daughter, not older than five, tugs at his feet playfully. "I know it is the soot because it wasn't like that before. Most times, [when I go] to the rural area, it is more severe there, the situation worsens."
Halimat Ojone Usman of the Department of Optometry, University of Ilorin, confirms the possibility.
"Irritants like smoke, dust, and by extension, soot, usually cause inflammatory responses in the eyes. Some can be mild and tolerable, others severe. Some people may have a burning sensation in the eyes, redness, or feel like the eyes are warm and tender."
Dr Itefue corroborates that "soot is an environmental pollutant that can cause ocular problems like conjunctivitis, keratitis, blepharitis, dry eyes, and cataract."
Despite the personal cost to him, like many others, the young father says he "believe(s) we have to pay sacrifices for everything on earth," when we ask if he thinks bunkerers contribute to the economy. He mentions that the Kpo industry is creating employment opportunities and the soot is a sacrifice.
He adds later, however, that he "still believe(s) that sacrifices should not outweigh the benefits." In this case, it does. So he asks, "Why are we killing ourselves [to live]?"
Murtala Abdullahi believes also that "protection against soot requires efforts to address the source of the problem" and that "modular refineries could help fill the energy vacuum that artisanal/illegal refineries target."
He recommends that "the government should change its approach and dismantle the illegal refineries in a way that is safe and doesn't contribute to the crisis. Oil companies should invest in upgrading and managing infrastructure and face strict oversight and sanctions. 
Remediation efforts need to be top priority for the companies and government to restore degraded lands and water bodies, he concludes.
A middle-aged woman with blonde hair and eyes sunken by age, also resident on Eagle Island shares a radical view. She believes death is ubiquitous, and policing Kpo fire means gatekeeping a certain type of death.
"One thing must kill a man. When death wants to come, death will come. Whether Kpo fire [or] no kpo fire. I prefer the Kpo fire even, than for hunger to kill us." She laments how government neglect contributes to unemployment which invariably pushes young people into illegal activities like bunkering and illegal refining. 
"All na death, all na killing." 
While the adults may live with the resolution of embracing the Kpo industry, children still have to bear the brunt of those decisions in the future. Not shifting from her resolution, this middle-aged woman tells HumAngle that "at times too, you know for our children, anything can bring sickness to them. But that is what they meet. They will enjoy it. 
"Anywhere wey dem reach if dem see am, anybody wey carry, [eventually] e go go, if e go survive am, e go survive am. People wey go survive am, go survive am. People wey go die go die."
As the visible rays of light set on Eagle Island that evening, Junior's words put some light on the Kpo industry's future. The question is if he may return to bunkering, and the answer ends in a question.
"E no dey possible if the government do alright. But that is the belief of an individual. If you think of coming back to the street, the street is meant for everybody. Life is not that fair. So if you see a man doing bunkering, it is because life is not fair." 
Junior takes a drag off his weed, then proceeds to list absent social amenities like education, electricity, and employment opportunities, which bunkerers are now providing, playing the government's role. 
Then, he asks: "If there is no bunkering, who will do these things?"
About the author

: Muhammed Akinyemi is a multimedia journalist and editor from Nigeria. He currently works as Sub-editor at HumAngle Media. He has covered various issues —usually around development and (space)tech— while advocating for the use of GIS/Space tech in storytelling. You can find his works here.