The silencing of scientists in the Philippines
Caught in a protracted war waged by state authorities against armed Communist rebels, scientists in the Philippines have been red-tagged, losing not only opportunities to do their work, but also their lives, literally.
Linnaea Marie had one wish as a child – to be able to ride a plane, just like her father, renowned Filipino botanist Leonardo Co.
The elder Co, founder of the Philippine Native Plants Conservation Society, would often do so as he visited different parts of the country to research about its abundant flora and fauna.  He promised his daughter that she would be able to hop on a plane too, just like him, one day. 
The first time that Linnaea Marie finally did, however, was when she had to fly to the island of Leyte because  her father was gunned down by members of the military on Nov. 15, 2010 in what they described as a case of mistaken identity. He was 56. 
"She almost didn't make the trip, as all flights were booked that night," Glenda, Co's wife, told Unbias The News in an interview. "When we were at the airport though, someone backed out and so she was able to get a seat, as if Leonard really wanted her to come."
"So this is what dad meant when he said I will be able to ride a plane soon," Glenda remembers her daughter telling her. "She was only eight years old at that time."
Co was killed in a counter-insurgency operation ironically called "Oplan X-mas Gift." Members of the 19th Infantry Battalion of the Armed Forces of the Philippines claimed Co was caught in a crossfire between members of the The New People's Army (NPA), the armed wing of the Communist Party of the Philippines (CPP) and the military.
The botanist died along with two of his companions, farmer Julio Borromeo and Sofronio Cortez, who worked for the Energy Development Corp, the company which tapped Co to be a consultant in one of their projects on the island.
Twelve years since that fateful day, however, the perpetrators are yet to be brought to justice.  Glenda has often been riding planes since then, often scrambling for funds for airfare, as she and the witnesses have to fly to Leyte so they can attend court hearings about her late husband's case.
But while Co's family has yet to attain justice more than a decade later, other Filipino scientists and researchers have also found themselves reportedly being harassed by the military under succeeding administrations, because of again, mistaken identity. Just like Co, they were suspected as members of the NPA or as communists, as the "enemy."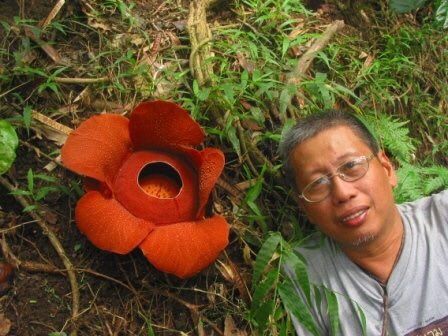 "What happened to Leonard Co could also happen to any field biologist"
Red-tagging, or accusing people of being communists, is a practice that has been done since the 1940s in the United States, but the term has again recently become more ubiquitous and notorious in the Philippines.
It's a phraseology which emanates from The Red Scare, a phase of the Cold War during the 1940s-1950s when chilling hysteria reached damning levels. During that period, then US Republican senator Joseph McCarthy began a witch hunt against communists. One of those who were on his list was a scientist, theoretical physicist J. Oppenheimer, also known as the father of the atomic bomb. Oppenheimer's security clearance was revoked upon allegations of being a communist.
At about the same time, in 1949, Filipino medical anthropologist Michael Tan wrote that the Philippines had formed its own body that would also go after members and leaders of the Communist Party of the Philippines and their sympathizers. Initially called the Committee on Un-Filipino Activities, the government instrumentality would be later known as the Committee on Anti-Filipino Activities. 
Now the underlying sentiment, "anti-Filipino," human rights organizations said, seemed to have been the language of condemnation used against those who dared question the government's policies and actions, a blanket epithet is liberally thrown around to make the "us v. them" dichotomy under the administration of then-President Rodrigo Duterte and now his successor Ferdinand 'Bongbong' Marcos Jr. stick. 
"What happened to Leonard Co could also happen to any field biologist," wrote Kier Mitchel Pitogo, a wildlife biologist on the Facebook page of Pinoy (Filipino) Scientists on Feb. 9.
He told Unbias the News that he was prohibited access to one of his field sites, Mt. Busa in the southern province of Sarangani, in 2018 allegedly because he was from the University of the Philippines-Los Baños and "was suspected of being [a] leftist." His project was supposed to help gather and provide evidence for the establishment of Mt. Busa as a protected area.
He added he brought the necessary documents from the Department of Environment and Natural Resources, his university and the locality he was supposed to visit but was told they were not enough to grant him access. 
"They questioned my motives for doing repeat-visit and long fieldwork in the mountains. It saddened me that I had to defend the importance and integrity of my work. Thinking of going through that again really scares me."
In the case of Feny Cosico, secretary general of the group Advocates of Science and Technology for the People or Agham, she was outright named as a rebel. Cosico is also one of those who have also been helping the Cos in their quest for justice.
In 2018, Cosico was red-tagged for being part of an environmental investigation mission which aimed to determine the impacts of large-scale mining activities conducted by Oceana Gold in the province of Cagayan Valley. Oceana Gold, an Australian-Canadian mining company, had its operations suspended in 2016 for supposed violations of environmental regulations, an allegation that it has denied. Its mining permit expired in 2020, but the following year, it was able to secure another 25-year-contract to continue its operations.  
Cosico later got wind of the news from a counterpart organization that her name has been included in the list of rebel recruiters. Despite that, however, she said that they still went back to the area to do their fieldwork and conclude their study.
But if there's a case that really hewed closely to what Co experienced, this was the ordeal of Kim Gargar, a physicist that was arrested in 2015 while caught in a clash between members of the 67th Infantry Battalion and the NPA in the village of Aliwagwag in Davao Oriental province. 
Gargar, who was working then at the Center for Environmental Concerns-Philippines and was also a Ph.D. student of chronobiology in the Netherlands, was seized by the army and was detained on charges of violating the gun ban during elections, two counts of attempted murder and illegal possession of explosives as reported by MindaNews. Gargar denied all of these allegations, saying he was there only at the site of the military operations as he was assessing the impact of typhoon Pablo (international codename Bopha) on the biodiversity in the area.
Art for science and accountability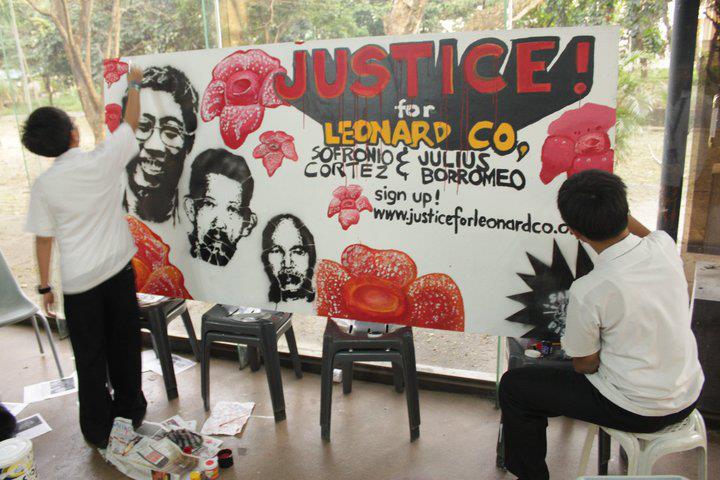 Gargar is still fighting the charges against him. In a similar vein, Glenda is also still seeking justice by pushing that murder raps be filed against those who killed her husband Leonard and his companions in 2010. 
On Dec. 20, 2012, the Department of Justice (DOJ) issued a resolution recommending that nine members of the army unit involved be charged with reckless imprudence resulting in homicide and 27 others with obstruction to justice. But Glenda thinks this is too lenient. 
Unbias The News tried to get the side of the Philippine military and the 19th Infantry Battalion for this article but they have yet to respond to the separate requests we sent as of this writing. 
Glenda added the investigation showed Leonard was shot in the back. He was facing the tree that he was supposed to be identifying and marking when he and his companions were fired at.  Armed with these facts, they challenged the 2012 resolution and asked that the charges be elevated to murder. The DOJ dismissed their appeal in 2020, but Glenda is keen on having it overturned. 
Between then and now, Glenda has seen their savings run dry, has to change lawyers three times and had their hearings set back for a year or so due to the pandemic. The funds that were raised through the help of Kaisa Para sa Kaunlaran (Ally For Development), an organization formed by the Filipino-Chinese community, have also been depleted after six years. 
When the hearings finally resumed, some witnesses also couldn't come at the last minute because they contracted COVID. Having already spent millions on a legal battle which has yet to go beyond the prosecution stage, Glenda one day found herself asking: "Leonard, should I still continue this?"
The late ethnobotanist and taxonomist seemed to have given her the sign that she should when reprinted copies of his book on medicinal plants sold fast, replenishing their funds.
"The Rafflesia map, I did it in 2019. I was then doing research for something that I will draw for a zine," Maniquiz told Unbias the News. She saw the Rafflesia map created by another botanist, Dr. Julie Barcelona in Co's Digital Flora of the Philippines, a comprehensive list of vascular plants endemic to the Philippines which the ethnobotanist has dedicated his whole life to creating and expanding before his life was cut short in 2010.
"That's when I also learned that Dr. Leonard is gone."
The illustrator has donated to another fundraiser for Dr. Co before deciding to start her own this year. She was able to raise over P197,000 or about $3,377, which she has already given to Glenda. 
"She doesn't even want to accept the whole amount," Maniquiz shared. "She said I should keep some as there should be an artist's fee, especially because she's also thinking of raising funds through calendars."
For Maniquiz, it's not that hard to empathize with Glenda's situation. "It's a very hard fight when you're going against a huge institution, just thinking about how long it's been." 
The assistance from Maniquiz was able to cover their legal fees for September and October, Glenda said. Now they plan to sell the calendars with Co's photos of plants and flowers in time for his 12th death anniversary.
"I have to raise another P100,000 ($1,714) for four hearings and of course, there's the payment for the lawyer, which is P15,000 ($257) per appearance." 
Amid the challenges, the frustratingly long wait and the heartaches, Glenda said she will not stop. 
"I didn't want him to die that way, as if his life is worth only a bullet."
Glenda added this fight is not just for Leonard alone. She said this is for all those who worked in science, on environmental conservation, in a country whose diverse biodiversity and natural resources have contributed much to the people's livelihood as well as health protection. Co's vast work and research are a testament to this, as he curated 122 of the country's medicinal plants.
But Co did not stop at this as he further used his knowledge to develop health systems for destitute indigenous communities. 
Underpaid, Filipino scientists as a whole continued to work on various initiatives and innovations that only aimed to reduce the destruction of the country's forests and water systems, especially in the face of climate change. 
This is why Pitogo finds it disconcerting that the paranoia against communists would result in the authorities preventing them from simply doing their work, only because they graduated from or are associated with universities and institutions that are perceived to be promoting "progressive" ideals.  
Cosico said it's only inevitable that scientists will use what they have learned to work on causes affecting the marginalized.
"We help communities use science as a tool to understand their plight and fight for their rights, their welfare. I don't think the state will ever understand that."
But for Glenda, the state must not only try to understand the unequivocal mission and nature of using science for the marginalized. It should also be held accountable for the killings and harassment not only of her husband, but of all scientists and researchers who have become casualties in a practice that has become all too pervasive and literally bloody in Philippine society, so much so that Pitogo has described red-tagging as being "now part of our culture." 
"This battle is not just for Leonard and for his companions that day. This is for all those who do fieldwork, for the environmentalists. I will not stop no matter what they do."
Purple Romero is a multimedia journalist who writes about politics, climate change and human rights in the Philippines and Asia. Previous employers include AFP and Rappler, and she has worked as freelance producer for Al Jazeera. She is currently based in Hong Kong.
Please consider a donation to support the work of our all-women newsroom. We create a space for journalists facing structural barriers, working towards a more equitable, inclusive world of journalism. Join our mission today!