"Heard" but not seen: Being Black in South Korea
Korean industries have commodified Black music and other components of their culture, but an ethnocentric-nationalist narrative, colorism and lack of legal protection against discrimination has made it more challenging  to  curtail the othering of Black people in South Korea.  
In the last few decades, South Korea has seen an explosive interest in hip-hop, which has been felt in fashion, nightlife and music. For most of Seoul's club managers, a night devoted to hip-hop is a guaranteed crowd-pull, serving as the bread and butter of their bottom line. Not only have existing venues in South Korea banked on the hip-hop wave, but many new venues are also opening up, exclusively devoted to the genre.
While several nightlife venues in Seoul deploy imagery and music clearly borrowed from Black culture, however, they keep a Korean-only policy, one that could not be legally changed as South Korea remains to be one of seven countries which have no dedicated law against discrimination, according to the 2020 Migrant Integration Policy Index. 
One of the clubs, in a personal encounter with one of the reporters for this piece, said  that 'trouble with foreign guests' has led them to instate a policy that only allows entrance to ethnic Koreans. Some bars allow entry of mixed-race Koreans as bouncers check passports or visas, but essentially, their doors generally remain closed to foreigners. 
Discomfort or discrimination?
In Itaewon, another club  that's blasting hip-hop music from its basement establishment is busy attracting young women and men to its doors. 
 "A lot of the Africans who have been trying to come to our clubs have been driving out our Korean guests by being too aggressive in how they have fun and approach women. Both of the two fights we've had here were initiated by foreigners who were hitting on girls who were with their boyfriends. And, plus, they also don't dress well like Koreans."
Likewise, many of these clubs that cap the number of foreigners or just straight-up ban foreign visitors from setting foot inside clubs make the excuse that the more foreign guests means less guests and less revenue on their parts.  
One common saying sums up the antipathy expressed by many South Korean club-goers: "It just feels uncomfortable being in the same space as them." 
There is nothing unique about this, perhaps besides the bluntness of the messaging, as racism in nightlife occurs frequently all over the world. However, these cases are symptomatic of the tensions that follow as Korea, a historically ethnically homogenous country, is seeing increasing inbound migration and interest from abroad. Over the last 20 years, Korea's foreign population has quintupled from less than 500,000 in the early noughties to over 2.5 million in 2019.
In its relatively short modern history, South Korea has prided itself as a "Han minjok," or Korean race, that survived hundreds and even thousands of years of attacks from neighboring powerhouses. Consequently, the country is comparatively new to cohabiting with people of different colors, cultures and religions.  
"There is a reason behind why we do it"
Racism in South Korea is underreported as coverage is often focused on events in Korean society and culture, rather than the voices of the minorities inhabiting the country. The media has arguably been right in being wary of giving outsized attention to the experience of Western expats. However, the collateral damage has been the obfuscation of the plight of immigrants of color and native mixed-race Koreans.
We meet Pinnacle, a Black American man who has lived in South Korea cumulatively for 10 years, at the rooftop of his own bar in Itaewon, Hustle. Pinnacle speaks in short bursts with a dignified, controlled fury, appearing to always know exactly what to say. For him, the absurdity of the Korean clubs having 'Black music night', while excluding Black people, is best illustrated to Koreans by inverting the roles.
Unbias the News reached out to the National Human Rights Commission of Korea (NHRCK) to ask them about this issue. They declined to comment, but instead sent us a statement they previously issued in 2018 when similar incidents occurred. 
"Although businesses have the freedom to facilitate their venues according to the methods they choose, such freedoms are not always accepted. Especially when one group is fundamentally excluded from a specific space or service, there needs to be an acceptable reason. There's no reason to believe that foreigners need to be given extra caution in clubs…there doesn't seem to be a rational connection between the use of clubs and the race or color of one's skin," the NHRCK said.
"Furthermore, the restriction of entrance to people of different races and colors for smooth operations of clubs is based on generalizations and preconceptions of [foreigners] from past incidents…it's difficult to see a rational reason for the club owners' actions." 
Adjacent to the visibility of hip-hop in the nightlife, there is a growing subculture, which has been spurred along by celebrities as well. Young Koreans dwelling in trendy neighborhoods like Apgujeong and Hongdae can be seen sporting durags, grills and wearing hip-hop inspired attire. 
In her 2019 book, White Negroes, which she describes as being about "black aesthetics without black people,"  Lauren Michele Jackson, associate professor at Northwestern University, illustrates how black aesthetics have been deployed in the 21st century pop culture with the aim of adding 'spice' to the sound and look of artists. The idea of blackness is used as a means of achieving maturity, autonomy and freedom. 
"For a white person, seeing, citing, and compensating black people, however, has no such reward and may actually prove risky," she writes. Similarly, in South Korea, black aesthetics are used for counter-cultural zest, personal swagger and profit, while black people are deemed undesirable, even dangerous, to associate with both socially and economically. Black aesthetics have added 'cool' and 'hip' color to K-pop and Korea's burgeoning K-hip hop scene, while Black creatives are left sidelined and disrespected.
Pinnacle isn't particularly impressed by this tendency either.
"I think that's weak. I don't have respect for people that walk around with dreadlocks and durags or whatever and they don't even know the history behind it. There is a reason behind why we do it. They just think it's cool. That shit is wack." 
Accordingly, for many nightclubs in Seoul, providing a foreigner-free experience is a selling point to attract customers, as a certain contingent of the clientele is more comfortable enjoying their night solely in the company of ethnic Koreans.
Pinnacle doesn't buy the explanations of club owners and maintains that they are motivated by pure racism.
"That's a stupid excuse. Have you never been around drunk Koreans? They are fighting too. Honestly, I have probably seen more Korean fights than foreign fights. "
"Koreans are a non-white people who believe in white supremacy"
The discrimination that Black people experience in South Korea is exacerbated by a hierarchy based on centuries-old colorism, where milky white skin is valorized and darker skin is associated with unattractive qualities. Even notable darker-skinned celebrities, such as idol singer Hyolyn, faced comments early in their career on looking 'dirty and smelly.' Getting a whitening treatment by a dermatologist is a popular procedure for young and old Koreans alike.  
Although discrimination is evident for all non-Koreans, the color hierarchy allows many Caucasians and lighter-skinned indviduals to reap certain rewards and privileges based on their color. Despite a rising tendency towards admiration of Black people based on stereotypes of athleticism and 'coolness,' they usually have more limited opportunities in comparison.
In his article "Racist South Korea? Diverse, But Not Tolerant of Diversity", Stanford professor and leading researcher on ethnicity in Korea, Shin Giwook, argues that Korean's treatment of other ethnic groups is based on their perceived status. White people are admired for their symbolic, cultural and economic power, while darker-skinned people from developing countries are viewed as inferior to Koreans. Shin cites the blunt assessment of Korean scholar Park Noja: "The white complex is a modern racism that has an obsession with skin color. Koreans are a non-white people who believe in white supremacy."
The infamous case of Sam Okyere, a mainstream celebrity in South Korea of Ghanaian origin, has perhaps been the most illustrative of the grim prospects for a culture shift, as it revealed the fragility of the Korean public on racial matters.
In his critique of a group of high school students doing blackface, his articulation that Koreans aren't being adequately 'educated' on race, leading them to be 'ignorant' on diversity issues hit a nerve among the Korean public, resulting in a vicious backlash. While Okyere was cherished in the mainstream for entertainment, his boldly critical gaze on Korean culture was perceived to be an ungrateful step too far – an act that was seen as an 'anti-Korean' attempt to humiliate the country that made him famous.
What was meant to be the start of growing reflection and awareness became instead a collective attack on Okyere. As part of the backlash, netizens dug through Okyere's past to find instances that could sully his reputation, reframing the narrative into how Okyere was a sexual scoundrel and a racist towards Asians. These allegations remained based on mostly subjective interpretations of his previous actions, yet widely believed and a vocal minority even started calling for his deportation.
The attacks became too much, eventually leading to Okyere's resignation from his television programs and a public apology. Two years later, Okyere still hasn't resurfaced on TV and he has ceased to publicly discuss racism in South Korea. 
Pinnacle believes that Sam should never have backed down. Citing his own approach to moral dilemmas when business partners requested racist practices, he believes that people of color in Korea must double down when faced with pressure.
"I feel for Sam. He lost his whole career just by standing up for what's right. But the thing that kind of makes it even more of a tragedy is that he reneged and tried to apologize for that. That's what made me mad, honestly."
"The officials here don't seem to trust people from Africa"
Arrivals of Africans to South Korea more than doubled in the past decade. While there were 28,329 African nationals who entered South Korea in 2010, there were 62,171 who came through customs in 2019, according to Statistics Korea. Data from The Ministry of Justice, on the other hand, shows that foreign residents from Africa increased from 16,073 in 2016 to 19,916 in 2018.
Choi Da-in, who serves as the Global President of International Multicultural Association, says South Korea has become an attractive destination for migrant workers from all corners of Asia, all the way to the coasts of Nigeria. 
"Many of these workers coming from Africa work for companies back home that sell goods ranging from used clothes to cars. So, they will buy goods in South Korea–where there are plenty–and send them back home to resell." 
Choi has had her fair share of experiences with Africans who have come to her country looking for work and a better life. Before becoming a member of International Multicultural Association, a non-profit that works to enhance and facilitate the lives of multicultural families residing in South Korea, she volunteered in the streets of Itaewon to help out Africans who needed assistance in navigating their ways in a foreign country. This is how she met her husband in 2007. 
After meeting her husband in the streets of Itaewon during her mission work for people from Africa, they started dating for three years until her husband needed to go back  home to Nigeria. As he couldn't find a way to extend his stay in South Korea, Choi made the decision to visit Nigeria in 2011 to get married. 
"However, the South Korean immigration office didn't even accept our marriage," she says. "There's the preconception that African men get into contract marriages with South Korean women in order to stay inside the country. The officials here don't seem to trust people from Africa."
An immigration officer told Unbias the News that rejection of visa applications is fundamentally based on procedural grounds, however. 
"There should be no problem if the applicants fulfill all the requirements for the F-6 visa, which is called the marriage immigration visa," said an immigration office worker.
Among the requirements for this visa include an inspection on the "history of the relationship," one's "intention of marriage," health and criminal background checks, test on basic Korean language, inquiry into whether "couple secured a liveable space they can reside for long-term," and an yearly income of at least 19.56 million won (US$14,940) for a household of two.
However, as in the case of Choi and her husband, there can also be external factors that come into play.
"If someone wants to question their visa rejection, they will have to directly ask the officer who evaluated their application as it's a case-by-case evaluation," the immigration office worker said.
Fighting to have her husband allowed to be by her side was just the start of Choi's bigger battle against bigotry, however. 
"Our issues didn't end there. There were just constant prejudice thrown at us such as seeing our relationship as 'casual' due to it being an interracial one," she says. "Then, our son Rihan was born, and we needed to protect him from bullying and being teased by classmates."
The family lives in Itaewon today, which they thought would be the only neighborhood in the country where  classmates wouldn't ask "why her son's face looked different."       
That's when she got the idea to get Rihan into modeling to raise his confidence. 
"He used to be a shy boy who was always dispirited about looking different from the crowd, but, now, he's not afraid to be the one introducing himself first. And a lot of people have started to come  and talk to him first." 
Rihan has appeared in advertisements for Samsung and music videos for K-pop singers like Akdong Musician. His face even appears in the textbook at his school in Itaewon where some schools even have as many as a fifth of their students who are from multicultural backgrounds.
"If there is one thing that should be added in our childrens' classrooms, it should be more education on racial tolerance and multiculturalism. Communities in Itaewon are relatively tolerant and considerate towards international families, but outside of this small hub of diversity, people still aren't used to living alongside people of different cultures and colors."
Wisdom Kenneth Mba, 45, is one of the businessmen who came with big hopes from Africa. However, his 11 years since he moved to South Korea from Nigeria to work for an exporting business and as an English teacher have been fraught with discrimination and agonizing recognition that he is treated differently than the rest of the people inside the country. 
"I have been rejected by some schools I have worked in the past after the kids told their parents that their new teacher was a black guy," he recalls. "The parents complained to the school to get a white teacher for their school or else they will withdraw their kids from the school."
But his most disheartening incident involved a plane ride to Cambodia during a trip with his South Korean wife who he met in 2012. 
Although Mba has pledged never again to ride on the same domestic airline again, he says he has seen "tremendous changes in his 11 years here." 
"The way people see me and other black people these days is very much different from when I first came here, or even five years ago." 
Mba, today, uploads videos of his family–which include his wife and two daughters–on their YouTube channel Mba Angelstory. The videos show an interracial family living in South Korea visiting parks and cultural events as a way to encourage other multicultural families while showing that South Korea has made strides in becoming more tolerant/accepting.  
Apologies, but no institutional protection
Aside from Black people and their families exerting various efforts to dismantle or dispel stereotypes against them and challenging racist perspectives themselves, personalities from industries which have benefited from the appropriation of Black culture have also started to acknowledge how such behavior distorts notions of identity and history.  
Last year, Blackpink member Lisa apologized to a fan during an online call with a fan for wearing a braided hairstyle that fans online said was "culturally insensitive" due to black individuals across the world having faced racism and hate for the hairstyle.
She's just one of several K-pop stars who have vocally addressed concerns from predominantly overseas fans of appropriation in the K-pop world. In the past, such matters were largely brushed off by entertainers and their agencies. 
Around the same time, Allen Ma, member of the boy band Cravity, apologized for comments he made during a BuzzFeed interview.
The controversial statement included his opinion that "K-pop is like a giant melting pot…inclusive in a way how it brings together and appreciates — not appropriates — many different cultures and people from all kinds of backgrounds."
As many fans rushed to social media to call out his denial of K-pop's history with cultural appropriation and insensitiveness caused him to apologize shortly after.
About nine out of ten people know of South Korea's problem with racism. Alastair Bonnett, a professor of geography at Newcastle University in the UK and author of the book "Multiracism", highlighted that even as 90 percent of people in South Korea, Japan, Taiwan, Singapore and other countries and jurisdictions in Asia concur that racial and ethnic discrimination is a "serious problem" in the US, "only in South Korea did a majority think such discrimination was a "serious problem" in their own country too.
The growing acknowledgment of this problem has galvanized some quarters of the society too to push for reforms that could accord Black people as well as other nationalities with legal protection in South Korea. But while the conversation towards this direction has started one way or another, more efforts are needed, as the National Human Rights Commission of Korea raised that  "the seriousness of racism is not deeply felt by the public."    
South Korea remains one of the few OECD countries without an anti-discrimination law that protects its marginalized groups. The lack of legal protection results in little recourse for people of color in South Korea when they are faced with discrimination in the labor market and during leisure. The divisive nature of LGBT and gender issues in Korea's political landscape has held back the passing of an anti-discrimination bill for years, with advances in racial equality being lost in the process, due to the comparably smaller demographic of racialized individuals in Korea. Further, given his history of anti-feminist, ethno-nationalist remarks, as well as belittling comments against Africans, experts believe that Yoon's election victory earlier this year has created an inhospitable environment for the prospects of institutionalized equality. 
Editor Purple Romero weighs in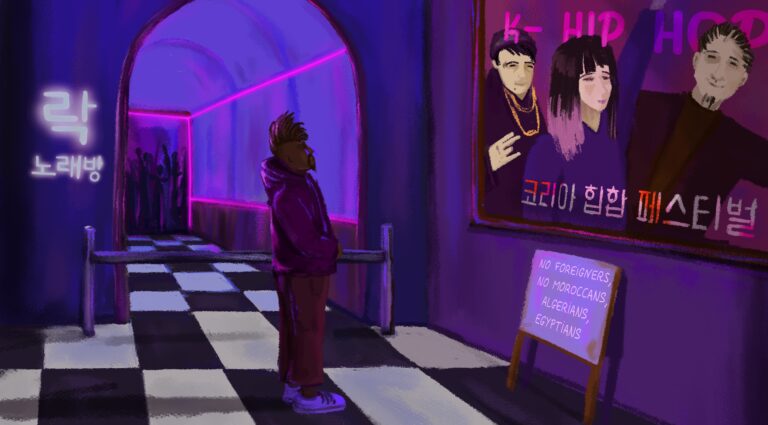 Can a three-letter word help us change our approach toward discrimination?
Read More