How police brutality continues to threaten Nigeria's thriving tech generation
Despite the Central Bank of Nigeria's clampdown on cryptocurrency transactions, more Nigerians are embracing Bitcoin and other cryptocurrencies as a hedge against the collapsing Naira and rampant inflation in the country- but not without risks.
Lagos, Nigeria—In June 2022, Osas Kennedy*, 23, arrived in Lagos, southwestern Nigeria, to obtain his certificate for a national exam. It had been five years since he sat the exam, so he'd catch up with some old friends. Perhaps, he also thought, he could buy his dad a new phone from Shoprite, located in the heart of Lagos, for Father's Day. Because he didn't quite know his way around, he ordered Bolt, a ride-hailing service, to drive him to the mall. 
Kennedy's friend offered to tag along, too; together, they boarded the ride for what would be a memorable cruise around Lagos. Halfway through the trip, a squad of five policemen flagged down their vehicle.
At first, Osas refused, stating that they "weren't under any rights to access his phone". But the police officers turned aggressive, and he obliged. "Since I had nothing to hide," Osas continued, "I let them go through my phone. They found Binance and Trust Wallet and asked me what I was doing with these apps after the government had banned crypto." 
Familiar with Nigeria's stance on cryptocurrency, Osas tried to defend himself. As he alleged, the police officers launched his WhatsApp, found a couple of crypto-oriented groups he belonged to and promptly labelled him a Yahoo boy – a colloquial term for a Nigerian youngster who uses false identities to defraud unsuspecting folks on the Internet. Most Yahoo boys tend to live lavishly on the gains of their cybercrime. 
Almost immediately the police ordered Osas to follow them to the station at Area F Division. He agreed, safe in the knowledge that he was innocent. Dismissing the Bolt driver, Osas and his friend joined the police in their van. "They carried me to Area F Division but refused to come down. Instead, they kept driving me around the town for like 2 hours, seized my phone and threatened me that I'd sleep in a cell and nobody would know," Osas told Unbias the News.
Suddenly, he recalled the gory tales he'd read on the Internet of young Nigerians found dead in remote locations. Reality dawned on him, and his unwavering insistence on his innocence began to thaw amid these threats.  
"Then I tried to bargain with them [the policemen], but they demanded N500,000 ($770) or nothing. Next, they drove me to my bank branch beside Sheraton Hotel and told me to go and withdraw the money for them." If it occurred to Osas to alert anybody at the bank about his situation, remembering his friend still trapped in the police van weakened the thought.
The police collected the cash and the withdrawal receipt, tearing the latter to shreds. As they released his friend and returned his phone, the police handed him some cash from the money he'd given them "to order another Bolt." As Osas caught a ride back home, he turned to Twitter to share his experience, tagging an array of notable activists, hoping to draw attention to his ordeal. 
Osas is hardly an isolated example of police assault against cryptocurrency investors in Nigeria. In October 2021, a group of policemen accosted Tobi* as he returned home from the gym one evening. After they had done their routine vehicle checks, the police proceeded to check his phone. "They searched my phone, found Blockchain and a couple of other crypto apps and immediately accused me of doing yahoo," Tobi said. While he tried to explain that he was a cryptocurrency trader, the police promptly seized his phone. Repeatedly threatened by the police officers, Tobi bailed himself out with N50,000($77) that night. "They called a POS agent for me to withdraw from…it was getting dark, and I couldn't risk following them to the station that night," he told Unbias the News.   
Two hundred and ninety-eight (298) kilometres from Lagos, in Ilorin, Southwestern Nigeria, 24-year-old Sheriff* awoke to incessant knocks on his door. As he opened it, his heart stopped short. "I saw three hefty men waiting outside my door. They barged into my room and started ransacking it before I could ask them who they were. They sighted my phone and forced me to unlock it," said Sheriff – he curated a YouTube channel and had just ventured into cryptocurrency as an alternative source of income. They found two cryptocurrency apps on his phone and "immediately tagged me a yahoo boy who was pretending to be a content creator." That morning, Sheriff and some of his neighbours were whisked to the police station. 
The Nigerian police have become notorious for their highhandedness. For Rinu Oduala, project director at Connect Hub NG, the Nigerian Police Force is an institution of uniformed criminals who capitalize on repressive government policies to sate their greed. Despite the continuing promises to halt youth oppression, police assault against young Nigerians has continued unabated, Ms. Oduala noted. 
"I would like to remind us how and why the ENDSARS protests began. As a result of excessive use of force, extortion, and harassment at the hands of the police. That hasn't stopped, and it has increased despite the repression of protesters and promises of the Nigerian Government. The events should inform many young people that the Nigerian Government has no will to end police brutality and extortions because they benefit from the suppression and oppression of the Nigerian people," Rinu, who stood at the forefront of the EndSARS protests, told Unbias the News.
To date, Connect Hub NG, a citizen-centered organization that enables justice for victims of state violence and police brutality in Nigeria, has handled over 350 cases of human rights violations. 
In October 2020, tens of thousands of young Nigerians came together to push for the disbandment of a notorious police sect in a movement known as EndSARS. The Special Anti-robbery Squad, known as SARS, were infamous for their wanton killings and inhumane treatment of young Nigerians. A collective pent-up outrage fueled it, and protesters formed in most states across the country, united in their mission to ban the dangerous police squad. A few days into the protests, the Nigeria Police Force announced it was dissolving the outfit. But Nigerian youths didn't let up, noting that the claim was just window dressing. Outside the country, solidarity protests had erupted in major cities of the world, including London and New York, by Nigerians in the diaspora. 
In a typical fashion, the Nigerian government responded with a show of repression, freezing the bank accounts of individuals and organisations suspected of sponsoring the demonstrations. Activist Rinu Oduala also had her bank account frozen. Still, the protesters remained unfazed. Feminist Coalition—a collective of 13 women—continued to provide aid across many Nigerian states, mainly from Bitcoin donations, even after the Central Bank had suspended its accounts. 
On 20 October 2020, uniformed men identified in CCTV footage as Nigerian soldiers shot at defenceless protesters draped in the Nigerian flag at Lekki tollgate in Lagos. According to Amnesty International, at least 12 people were killed and dozens wounded in the EndSARS protests. In the wake of the shooting, the Nigerian army denied involvement in the attack. 
Since 2016, Nigeria's Naira has slumped by more than 209% compared to the US Dollar. The result has been a rise in the price of goods and a surge in the cost of living. Tightening foreign exchange policies, increased unemployment and soaring public debt have inevitably worsened the situation. In the first quarter of 2022, Nigeria's debt stock rose to 41.60 trillion Naira ($100.07 bn). And the amount spent on servicing the debts exceeded Nigeria's revenue within the first quarter, according to the country's finance minister. 
A report released in April 2022 by the Seychelles-based KuCoin exchange revealed a staggering growth in cryptocurrency adoption among Nigerians. According to the world-leading cryptocurrency exchange survey, 35% of Nigerians invested in cryptocurrency, with 52% of the investors mainly under the age of 30.
Acknowledging the widespread use of crypto by the Nigerian people, the Chief Executive Officer of Block Inc, a financial payments company, Jack Dorsey, expressed confidence in the future of cryptocurrency in the country. 
In his projection, Nigerians will lead the charge for Bitcoin, the largest cryptocurrency. The founder's vote of confidence for Africa's largest economy was evident in some of his recent decisions; in December of 2021, Dorsey appointed three Nigerians to his Bitcoin Trust fund, which he co-founded with American rapper Jay-Z. 
In South America, for instance, countries like El Salvador and Venezuela have adopted crypto as a payment method in their economy, with the former declaring Bitcoin as legal tender and the latter deploying cryptocurrencies to beat inflation. 
CBN's Directive against Cryptocurrencies
Following the lead of countries like China and Turkey, the Central Bank of Nigeria barred banks from trading in and enabling cryptocurrency transactions in February 2021. Among the concerns cited in the circular were cryptocurrencies used for terrorism financing and money laundering. Many Nigerian youths believe this move was a reprisal against the EndSARS demonstrations. Most commercial banks have since moved to close accounts suspected of cryptocurrency transactions. Banks that did not comply with the CBN directive have received heavy fines. 
"I think the CBN's approach towards crypto is borne out of ignorance. They [CBN] think crypto is affecting the Naira because they can't control it like regular fiat," said Michael Osahon, a freelance software engineer in Lagos. "With the recent absence of virtual Dollar cards and the banks barring crypto payments, the volume of transactions churned out within the tech space may reduce significantly."
But this clampdown has done little to stifle the growth of cryptocurrencies in Africa's most populous nation. Nigerians have found workarounds, resorting to peer-to-peer networks on several platforms, including WhatsApp and Telegram. It's on these P2P marketplaces that traders like Tobi earn a living buying and selling Tether, a type of cryptocurrency whose value is pegged to the Dollar. 
While many agree that the restriction affects the livelihoods of many young Nigerians for whom cryptocurrency serves as a significant income stream, Prince Kuro, CEO of SmartIV Hauz, a tech agency based in Lagos, thinks that the ban has become a lightning rod for innovation. 
"The clampdown has forced several fintech brands to build solutions that integrate crypto payments," he said. 
Following its restriction on cryptocurrency transactions, the CBN launched a government-owned digital currency, the first of its kind in Africa. Modelled after China's e-CNY, the eNaira was designed, among other reasons, "to facilitate diaspora remittances and offer financial inclusion to Nigeria's unbanked population". However, two days into its launch, Google took down the e-Naira app on PlayStore following a flurry of bad reviews. Although the app has since been restored, the eNaira hasn't fared any better in use. 
Sheriff puts the inactivity of the digital currency down to its lack of value for the populace. "e-Naira can never take the place of crypto because it has the same value as Naira. Why should anyone use it? It [eNaira] doesn't add any value whatsoever to money. For me, it's just a waste of resources," he said.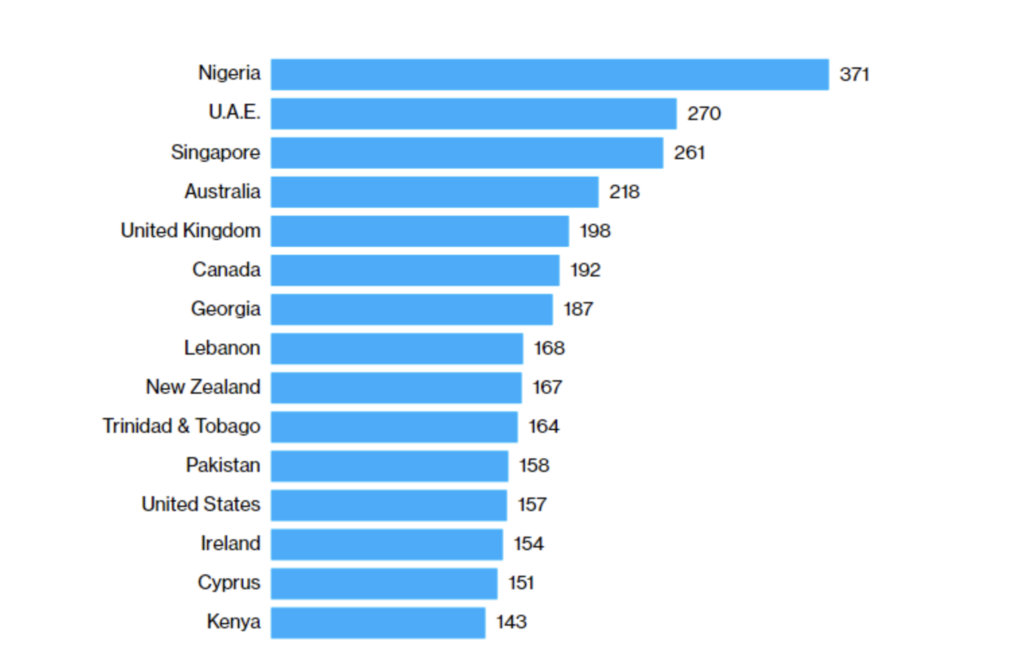 Nigeria tops the list of 15 countries with the keenest interest in cryptocurrency based on 2022 Google Trends data. Source: CoinGecko
A day after Osas shared his ordeal on Twitter, the police reached out to him. "They asked me if I remembered the names of any of the officers," explained Osas, who has since fled back to his hometown. After interrogations, the police assured Osas that he'd recover his money. 
Although the police allege that they've apprehended the erring police officers, Osas has yet to recover his money. 
The PRO of the Nigerian police force did not respond to multiple requests for enquiries from Unbias the News.
Meanwhile, the spokesperson for Lagos State police command, Benjamin Hundeyin, acknowledged the rising number of cases of police harassment against crypto-savvy youths. While he maintained that "no policeman has the right to ask anyone to open their phone", the PRO noted that the Police Act remains the yardstick for discipline in such harassment.
"The laws that guide how officers should be punished are under the police act, and the police act was created by the National Assembly—that is, the government. That's what we follow when we discipline officers who default. Hence we at the Lagos State Command can't work outside the laws available to us," Mr Hundeyin said by phone. 
Still, Osas doesn't trust the measure of the punishment meted out to these erring police officers. 
"If there are severe measures—that punish these officers—to show that the police are working," said Osas, "a lot of them will sit up. But nothing serious is done to them in the end." 
*Names have been changed to protect identifty
Kingsley Charles is an international freelance journalist living in Nigeria. His works focus on pop culture and tech as well as the insidious pressures of climate change on modern life. You can find some of his writing here.