Genetic engineering against malnutrition: Does Golden Rice live up to its promise?
For the first time ever, large quantities of genetically modified rice were harvested in the Philippines. It is supposed to save children's lives. Golden rice farmers, nutrition experts and mothers report on their experiences.
Eugenio Sarmiento's front and backyards were stocked with mini tractors, wheelbarrows, stainless-steel sprayers, and a non-motorized plow. He was able to buy all of this as a rice farmer with three hectares of land and over 30 years of experience.
He took part in the pilot planting of Golden Rice, rice enriched with beta-carotene with the help of genetic engineering, in Catanduanes, one of seven priority provinces by the Philippine government for initial distribution of this genetically modified rice to pregnant and breastfeeding women and undernourished children because malnutrition is prevalent in the province.
VAD is still a problem for children under the age of five in the country, but by the mid-2000s it had been reduced from a severe public health concern to a moderate one. Existing programs include Vitamin A supplementation in the form of liquid drops for children 6 – 59 months old and their lactating mothers, as well as school supplemental feeding programs where locally available Vitamin-A-rich vegetables, such as moringa, are included in meals. Choices for fortified staples and other commercial foods with Vitamin A and iron became available following the Philippine Food Fortification Act of 2000.
Now, Golden Rice is to be introduced as another building block in the fight against VAD. Its government-corporate developer, The Philippine Research Rice Institute (PhilRice), has renamed Golden Rice with Malusog Rice, which means "healthy rice." 
The Philippines is the first in the world to make Malusog Rice available for growing to Filipino farmers this year.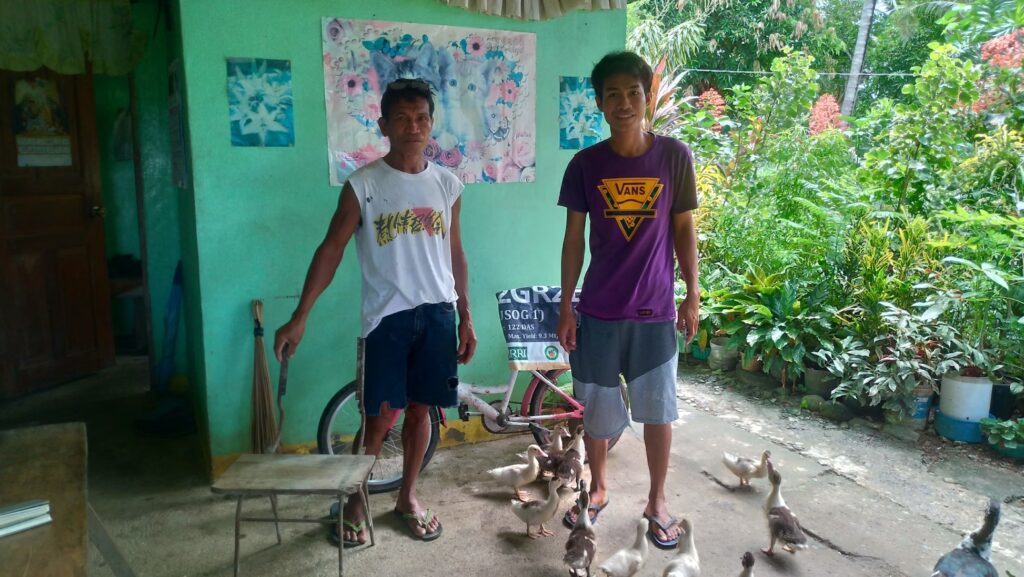 A long way from the idea to the first harvest
The story of Golden Rice did not begin last year, however, but more than 20 years ago with the idea of a German-Swiss research team. Two biologists, Ingo Potrykus and Peter Beyer, wanted to use green genetic engineering to develop an effective remedy for VAD for countries in Asia where rice is the staple food. They hoped for nothing less than to be able to save millions of lives.
Normal rice does not naturally produce beta-carotene, which can be converted into vitamin A by the human body. Potrykus and Beyer succeeded in transferring genes first from daffodils and later from maize plants – both rich in beta-carotene – into the genetic material of rice plants. The beta-carotene leads to the yellow or golden color of the newly developed variety, which gave Golden Rice its name.
From the beginning, the two researchers campaigned for small farmers in countries of the Global South with a maximum annual turnover of 10,000 US dollars to be given the seeds for Golden Rice free of charge. In addition, seed-saving and sowing them again in subsequent years were to be allowed.
Before that, however, the laboratory-developed Golden Rice had to be crossed into locally adapted rice varieties through conventional plant breeding, undergo complex approval procedures for genetically modified food and fight resistance from organizations such as Greenpeace.
Rice farmers especially appreciate the higher income
"I tried it out to see if it had good yields," Sarmiento, 58, told Perspective Daily when the local government chose him from among the registered farmers in his province to join the program.
His harvest in April produced 30 sacks of dried rice (unhusked), which he described as "below average," with each sack weighing 50-55 kg.  He claims that his Malusog Rice farm in Virac town is inferior to his other ricelands with good soil quality since it has always been sandy.
Nonetheless, he claims that he "earned somehow" by selling 14 bags of milled Malusog Rice to his local government's Nutrition Office at a higher market price, selling each 60-kilogram bag for about 2,500 instead of the usual market price of 2,000 pesos.
Based on farm size, PhilRice also provides farmers with input subsidies ranging from P10,000 in cash to two bags of synthetic fertilizer. In exchange, they must sell their produce to the National Food Authority (NFA) at P19 per kilogram, where it will be milled and sold. Sarmiento, on the other hand, chose to wait until the Nutrition Office purchased his yield as rice.
Ariel Panti, a farmer-technician from Virac's agriculture office who participated in the program with Sarmiento, claimed that if not for the subsidies, he would have done the same.
Panti harvested 48 bags, weighing an average of 45 kg each, from .5 hectares of riceland. He and Sarmiento also observed that the GM variety, which uses RC82 as a base crop, is susceptible to disease-carrying plant blight and green leafhopper, but can be handled if treated promptly.
He plans to continue cultivating it because of the subsidies and higher rice price when he sold a few kilos to curious locals, but he adds that "farmers who grow non-Malusog Rice can also benefit from the same subsidy schemes since farming costs are expensive."
Writ of Kalikasan: Golden Rice as a threat to life and health?
However, shortly after the first rice was harvested, Sarmiento, Panti and 2 other farmers from the pilot programme had to temporarily stop growing Malusog rice.
The Supreme Court issued the Writ of Kalikasan in April 18 against Golden Rice and another genetically engineered eggplant called Bt eggplant, in which the soil bacteria Bacillus thuringiensis has been transferred to harm herbivorous insects.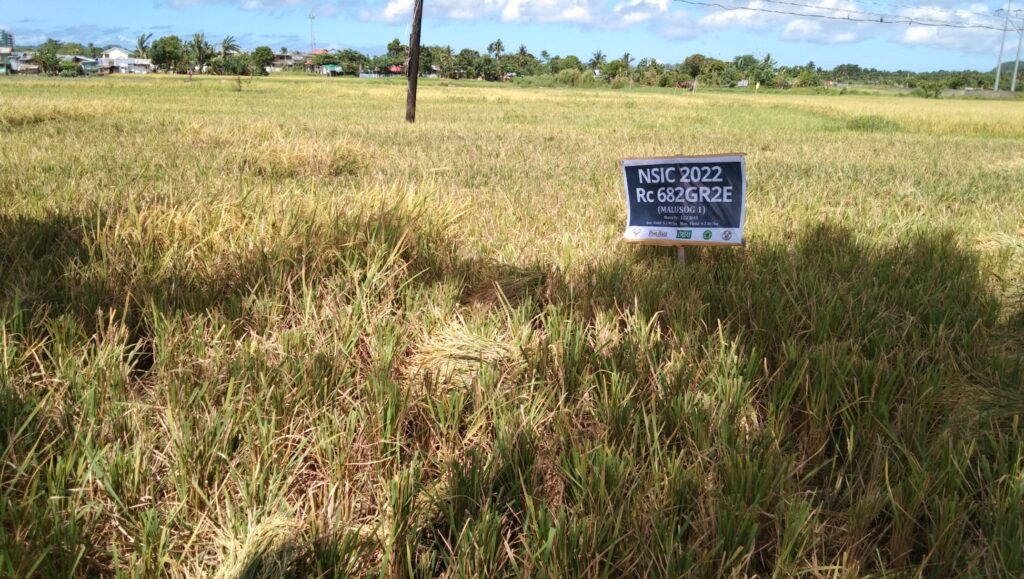 The Writ of Kalikasan provides Filipinos with legal protection against environmental threats to life and health.  Thus, the commercialisation of both is temporarily halted until respondents — various government agencies and organizations — provided proof of safety through an independent risk and impact assessment, as well as legal compliance through public participation conducted by respective Biosafety Committees, among other things.
Another reason the petitioners, led by the Magsasaka at Siyentipiko para sa Pag-Unlad ng Agrikultura (MASIPAG), asked the Supreme Court to revoke all biosafety permits for Golden Rice and Bt Eggplant was the country's lack of liability mechanisms in the event of damage.
Debal Deb, an Indian farmer and ecologist who contributed a chapter in a book about GMO risks and uncertainties, said in an email that "in transgenics, the [inherent] uncertainty is at a functional level."
He states, for example, that the golden yellow color of Malusog Rice is a result of a huge amount of zeaxanthin and lutein synthesized, which was "neither intended nor predicted" after insertion of the transgene to synthesize beta-carotene, and that a line of Golden rice plants were found to be much shorter and had a lower grain yield than non-GM isoline. This agronomic effect was also "neither intended nor predicted."
Aside from uncertainty risks, Filipino seed-savers are also wary of seed contamination. "Just one grain of Golden Rice can contaminate our collections," says Ronald Labrador, a farmer-technician who used to lead one of MASIPAG's organic trial farms in Albay province.
He claims that if the government really wants to address food and poverty issues, it should allow farmers to save and develop their own seeds, like what they're doing at TABI Farm, which became a trial farm in response to the devastating typhoon damages in 2006. They have so far developed farmer-bred rice varieties that can withstand saltwater due to coastal floodings.
Labrador further laments that it could make them liable, and easy to be accused of developing the patented product if it gets mixed with the seeds they're growing in their trial farms.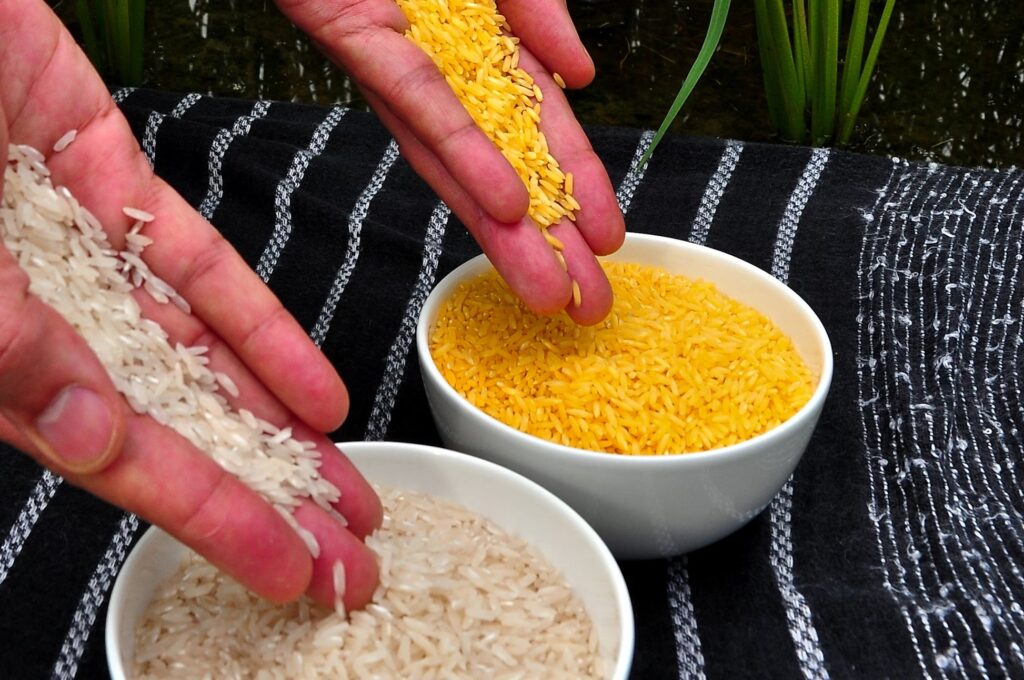 Feeding program with Malusog Rice
Despite the Supreme Court's order, Virac's municipal Nutrition Office has included Malusog Rice in its feeding program for malnourished and stunted children since July. According to Jocelyn Quiñones, Virac's chief Nutrition Officer, PhilRice has no direct order other than temporarily prohibiting the planting of Malusog Rice in light of the Writ of Kalikasan – the rice already harvested would still be allowed to be distributed free of charge.
Malusog Rice is added to sticky (glutinous) rice for a porridge cooked in coconut milk and roasted mung bean in its weekly menu for supplemental feeding of children under five years old.
According to the Office's 2023 data, the town has more stunted children under the age of five than underweight and wasted children.  The World Bank reported in 2021 that stunting (impaired growth) is a sign of undernutrition at the population level rather than poor nutrition at the individual level.
A government report on minimum dietary diversity stated that stunting can be a result of "lack of proper and adequate nutrition" in children ages 6-35 months, where they "undergo rapid growth and are more susceptible to malnutrition and infections."
Can Golden Rice help in such cases?
The Indian ecologist Debal Deb points out that any amount of vitamin A — whether in a tablet or in Golden Rice — cannot solve the VAD problem, if the consumer's diet is deficient in zinc and lipids, and if the consumer has diarrhea or dysentery from unsafe drinking water.
Existing studies that claim its effectiveness as a source of vitamin A involve healthy persons, if not simulated in ideal scenarios, conditions that don't need intervention with Malusog Rice.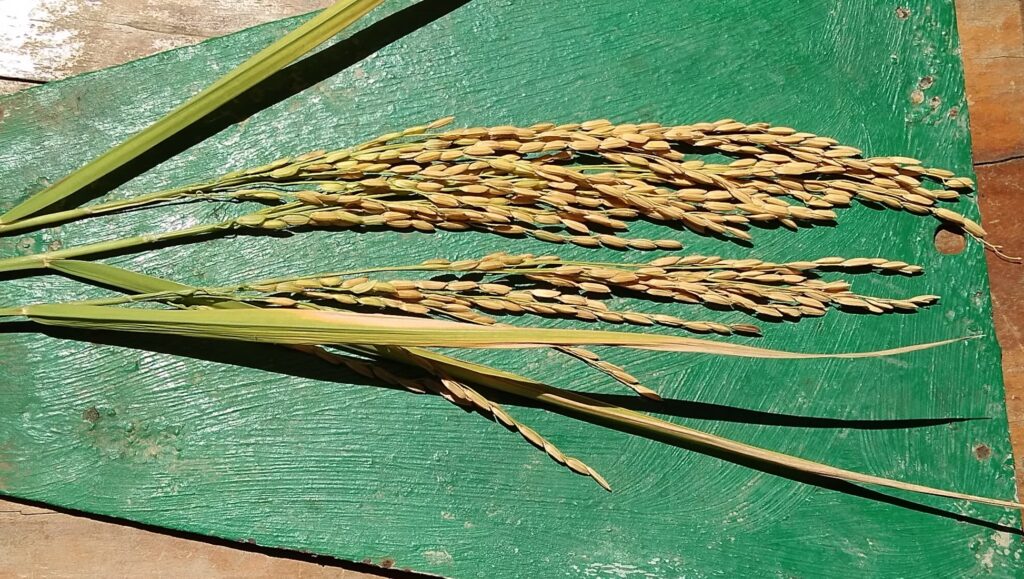 Single mother and recent graduate Charlene Joy Isidoro, 23, from Barangay Palnab del Sur said she did not hesitate with Malusog Rice, even if it's new, because she has seen the feeding program's result. 
"From being malnourished a year ago, my son achieved normal weight, until he got sick recently," she said. She believes her son will benefit from the added vitamin source.
The feeding program serves afternoon snack meals on weekdays and full rice meals on weekends for 120 days.  According to Isidoro, her son eats well if the viand is fish or meat, or if it is egg and fruits, but he doesn't like vegetables except moringa and eggplant.
Arlene Nazareno, a Barangay Nutrition Scholar in neighbouring Quezon Province who volunteers to deliver nutrition and associated services to their community, finds the same reason for children's weight loss. "When that happens, I talk to the child's parents or guardian right away. Their cooperation, especially taking the time to serve vegetables in a palatable way, has been enormously helpful," she said.
According to her, there are several ways to do this, such as making a Vitamin-A-rich crispy vegetable 'meatball' using shredded squash and roughly chopped moringa leaves.
Perspectives from lactating mothers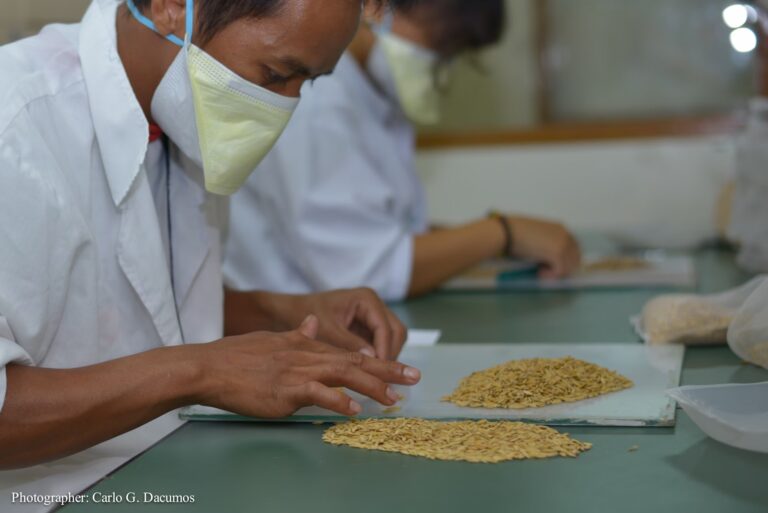 Cris Fernandez, a 27-year-old lactating mother from Barangay Santo Niño, also recalls that Malusog Rice must be accompanied by equally nutritious food, which she and her husband strive to provide for their four children, despite the latter's irregular construction job. "Sometimes we ask for help from our parents, my siblings, or lenders," she said.
Dominga, 40, a breastfeeding mother with six children from the same barangay, stated that growing vegetables and crops for their family's food also helps, especially because her husband's carpentry work is irregular. Her underweight three-year-old son was also a beneficiary.
Three other beneficiary-breastfeeding mothers from another barangay do the same by asking store owners for goods like rice and fish to be paid later. They, too, struggle to get some of their children to eat vegetables.
They are confident that Malusog Rice, which they were taught is an additional source of nutrients, can help reduce as well as avoid malnutrition. "Of course, I'd want it for my children if that's what they're saying, that it can add nutrition, thus its name," Fernandez said. 
All of the mothers want Malusog Rice again because the five kilograms they received for free in March saved their household of five to six members the expense of three rice meals each day for three days.
Is Golden Rice a story of success?
Ace William Tria, the new chief of the Catanduanes Agriculture Office, stated that the goal of PhilRice is good, and that it is also a solution to Vitamin A problems that could have been avoided if children simply ate vegetables, adding that if we could just make these appealing to children, we might not have needed Malusog Rice.  
He asserted that, if there is no Writ of Kalikasan order, the government agency should have been collecting data by now as a national program implementer. As far as VAD is concerned, the province has no official data. "Our basis are physical observations only because we don't have clinical tests," Quiñones said as well.
Meanwhile, Tria said that the agriculture office is looking forward to training more farmers to grow commercial crops that the province usually outsourced but can be cultivated locally, among others. As a priority under his tenure, they're tracking data (or lack thereof) on past and current agricultural programs. "Local officials should create programs based on what is actually needed on the ground," he said. 
Golden Rice has come a long way – from laboratories in Switzerland to the fields of rice farmers to Filipino mothers who only want the best for their children. Genetically modified rice is not a silver bullet that helps against structural problems and the local agricultural situation. But whether it can at least make a decisive contribution against malnutrition and VAD will only become clear once reliable data has been collected through the pilot project.
Mavic Conde is a Philippine-based solutions journalist. She was a 2022 LEDE Fellow at the Solutions Journalism Network, where she collaborated with journalists from Asia and beyond to create solutions-oriented pieces about climate and land rights, agriculture, and food production. She is now contributing to Bulatlat and Mongabay.  
Maria Stich is a journalist and editor for climate and environmental stories at the constructive online magazine Perspective Daily.
Read more in this series:

This project was funded by the European Journalism Centre, through the Solutions Journalism Accelerator. This fund is supported by the Bill & Melinda Gates Foundation.