Trading guns for fish and insects, former FARC combatants find a path back to civilian life
Sandra* did not know anything about the climate crisis and its causes, nor did she know about food insecurity and the possible solutions to it when she surrendered her weapon to the United Nations after the guerrilla group she was part of, The Revolutionary Armed Forces of Colombia (FARC-EP), signed a peace agreement with the Colombian government on Sept. 26, 2016. 
She simply thought that a productive project to sell mojarra fish for human consumption raised in ponds would be her way of reintegrating into civil life after 22 years of fighting a war in the most unequal country in Latin America, where 80% of  farming land is devoted to extensive cattle raising and only 20% to agriculture.
FARC-EP was a Marxist-Leninist guerrilla organization founded in 1964 by 48 peasants, two of them women, called los marquetalios, survivors of the "Operation Marquetalia", a military deployment against what the president of the time called "independent republics," territories that according to the conservatives escaped the control of the Colombian State, in the context of Cold War and fear of communism. Marquetalios' main objective was focused on an agrarian reform that would allow the democratization and titling of agricultural land to farmers.
The first person to support Sandra's idea was Ricardo*, another signatory of the peace agreements born in Meta, a department in central Colombia, that had been part of the Eastern FARC Bloc for 20 years  when they met in Antonio Nariño's Territorial Training and Reincorporation Space (ETCR), in central Colombia. 
The ETCR is  a group of camps across Colombia created by the government that functions as intermediate points between guerrilla and civilian life. There, ex-combatants receive handicraft and entrepreneurship courses, are contacted by financial institutions offering to open bank accounts and apply for loans, and those who were not registered at birth are entered into the system and identified.
In the community dining rooms of this place Sandra and Ricardo found the name of their new business venture: Piscícola Varsovia S.A.S., and with it they joined the cooperative Multiactiva Agropecuaria del Común, founded by other signatories in the peace agreement, of which Sandra was the first female member of the board of directors. It now has 150 members.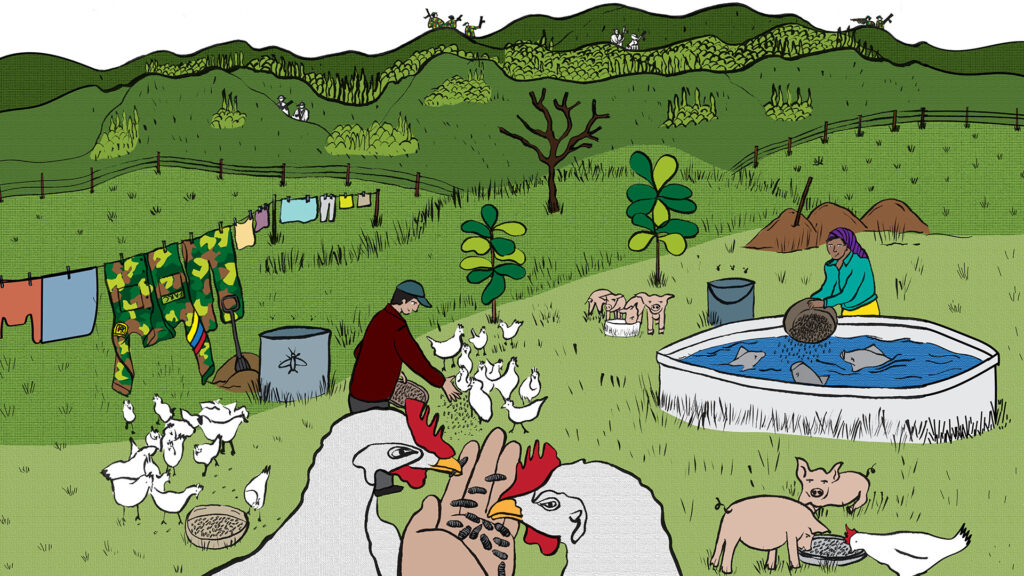 Under the eucalyptus tree
"I'm not that romantic. Nothing special happened. We met right after the Tenth FARC Conference, the last one. Little by little we have adapted to each other. I fulfill his life expectations and he fulfills what I expect from a man. And that's it," Sandra explains before bursting into laughter. For Ricardo it was more than that:
The grace with which she explained her project also captivated other 25 ex-FARC combatants. People who, like her and Ricardo, had surrendered their weapons and were facing the same situation: to lay down their arms forever and start a new life or return to the only thing they knew, war. The idea then became a collective project. 
One year after living in the ETCR, Sandra and the others dug their first fish pond at Sandra's mother's farm, located in Varsovia village, Tolima department. For the first harvest they bought 20,000 fish. The majority died because of their limited knowledge of fish farming, so they were only able to sell 7,000. The loss did not daunt them but it left them a lesson: due to the very bad access roads it was difficult to buy fish feed- stock, and when they could buy it it was too expensive. 
While a fish farmer in the United States pays about $28 for 40 kg of fish food with 45% protein concentrate, Sandra and Ricardo have to pay $37 or more, if they can get access to the food-stock at all. 
In most cases, the basis of these concentrates are corn, soybean and sorghum flours, which in the Colombian case, according to Adriana Muñóz, doctor in aquaculture, are mixed with slaughter animal waste. "Although each laboratory has its own formula and the proportions vary according to the producer," she adds.
Sandra and Ricardo shared their experience with other guerrilla ex-combatants with similar types of productive projects and realized that the problem with the food costs was not only for fish, but also for chickens and pigs feed-stock. "So we decided to enroll in a program from the National University of Colombia (UNAL) called Solidarity Extension, a project that seeks to solve the challenges that vulnerable communities like ours face in their productive and social innovation projects," Sandra tells me.
Dr. Karol Barragán is a professor at UNAL. When she started teaching 17 years ago, she noticed her students were very curious about insects. That's why she started reading about them and became convinced that bugs could fix a big portion of the modern world's problems. Soon afterward, Karol decided to do her PhD on black soldier fly larvae.
Her academic work is titled "Flies are what they eat," which  studied the composition of the larvaes after being fed by rich organic substrates, like household organic waste. When she read in the Solidarity Extension list the problem that Sandra's business had, she was convinced that these insects and the protein they have would be the perfect solution.
At the end of 2018, Dr. Karol, Sandra and Ricardo met. With her guidance and others of her peers, among them Dr. Adriana, Ricardo and Sandra opened their first pilot plant for the production of black soldier fly larvae, and began to do experiments with it. They gave it not only to the tilapias but also to the chickens and the pig they had. Soon they realized that their animals not only preferred to eat the larvae, but they grew up healthy and strong, even more than animals that were grazed with only animal feed- stock.
"We took a harvest of tilapia and cachama fed 50% with larvae, production costs decreased by 20% and we feed the larvae not only with our organic waste but also with the organic waste of our colleagues, the signatories of the peace agreement still living in the Antonio Nariño ETCR, where this project was born and where Sandra and I met after the war," Ricardo explains to me as a black soldier fly walks in the palm of his hand, and he adds: 
In fact, when they were fighting in the jungle the little garbage they produced was reused so as not to leave "clues to the enemy." For every tree cut down, they planted three more that would eventually ensure them to be invisible from the skies and everything that could be reused to live in the middle of the mountains without external contact was sacred. Silence at all times and respect for the moon were also important, so that a noise would not make them victims of an ambush or a little light in the dark would not end in a shooting. 
"Yes, some things are different and we understand this is a capitalist system. For our voice to be heard we have to have money. But if you look closely, the background is the same: the FARC was a big company where everyone had a role to play. What happens is that now we are not FARC but Piscícola Varsovia S.A.S, and it is only me, together with Ricardo and the other partners, who must take care of the business," Sandra says.
Neither in Varsovia nor in the ETCR where Sandra and Ricardo began their reincorporation process is there public garbage collection. Being so remote and forgotten by the State, most of the waste in these areas are thrown into rivers or incinerated as is the case with 33% of the 2,010 million tons of garbage produced annually in the world, according to the report "What a waste 2.0: Global Snapshot of Solid Waste Management to 2050". Sandra aimed to help reduce this waste however through a circular economy, which has become intrinsic to their project.
"Our immediate objective is to make people aware that buying mojarra fish from us means supporting a communal productive project that is a response to the climate crisis we are experiencing and get donations to buy a more efficient shredder for organic waste in order to grow our capacity up to two tons of larvae, not only for us but also for the farmers of the region, who will be able to finance part of the purchase with barter: they separate their organic waste from us and in return we make good discounts, so they can feed  their animals with the larvae or buy fish for dinner. And the humus that the larvae leave us when they decompose the organic waste can be used in our gardens and crops," she explains.
"[This is ]Exactly what we believed to be fighting for in the FARC: the peasant communities and their well-being. Only here it is without weapons but with fish and insects."
*Names of former FARC members have been changed.